Rings (2015)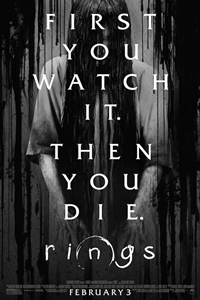 Synopsis: A group of high school students have to find someone to watch an evil videotape or else they'll all die.
Showtimes
Note: Movie showtimes are subject to change. For possible updates to this schedule, please call the theater.
Friday, Feb. 24: 9:10 p.m.
Saturday, Feb. 25: 9:10 p.m.
Sunday, Feb. 26: 9:10 p.m.
Monday, Feb. 27: 9:10 p.m.
Tuesday, Feb. 28: 9:10 p.m.
Wednesday, March 1: 9:10 p.m.
Thursday, March 2: 9:10 p.m.