Valerian and the City of a Thousand Planets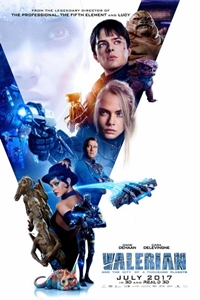 Synopsis: Valerian and Laureline are special operatives for the government of the human territories charged with maintaining order throughout the universe. Under directive from their Commander, Valerian and Laureline embark on a mission to the breathtaking intergalactic city of Alpha, an ever-expanding metropolis comprised of thousands of different species from all four corners of the universe. Alpha's seventeen million inhabitants have converged over time- uniting their talents, technology and resources for the betterment of all. Unfortunately, not everyone on Alpha shares in these same objectives; in fact, unseen forces are at work, placing our race in great danger.
Showtimes
Note: Movie showtimes are subject to change. For possible updates to this schedule, please call the theater.
Monday, Aug. 21: 1:30 p.m., 5 p.m., 8:30 p.m.
Tuesday, Aug. 22: 1:30 p.m., 5 p.m., 8:30 p.m.
Wednesday, Aug. 23: 1:30 p.m., 5 p.m., 8:30 p.m.
Thursday, Aug. 24: 1:30 p.m., 5 p.m., 8:30 p.m.