Wrestlers come together for officer
Published: Sun, December 2, 2007 @ 7:42 p.m.
YOUNGSTOWN — Sunday afternoon at the Jewish Community Center, and a small group of guys are lacing up boots.
The unmistakable crack of guys hitting a wrestling mat booms intermittently as others talk about Austintown Patrolman Ross Linert. He's still in a drug-induced coma, recovering, with more surgeries scheduled, they say.
It's the Monsters of the Ring School of Professional Wrestling, coordinated and instructed by Preston Steele (Pete Lucic out of the ring.) He's the six-time IWA intercontinental champion with 22 years of matches behind him.
The wrestlers are working out details of their match they'll do as a benefit for Linert Dec. 8 at Austintown High School. Tickets are $10, and 1,300 have been sold already. FOP locals have also donated money.
Steele, a Trumbull County deputy sheriff outside the ring, says he has worked with Linert in the past and wanted to help raise money for the burned officer. Originally on the table was a dinner dance, but he says they felt they could raise more money with the night of wrestling. He's headlining the show with Doink the Clown. Kelly Pavlik is also expected to make an appearance.
Monsters of the Ring began in June, with six students. Training consists of 10-12 weeks of training by Steele and guest instructors, and two guaranteed professional matches.
According to Steele, the school provides students with experience necessary to move on to other federations, and gives them exposure. He says his students have already been getting phone calls from interested federations and wrestling organizations.
Wrestler Moondog Scrap fought his first fight in Clinton, Ohio, Dec. 1. The 28-year-old Smoky Mountains native says the school has given him a chance to wrestle, when he'd almost given up on it.
Photo Gallery
Monsters of the Ring School of Professional Wrestling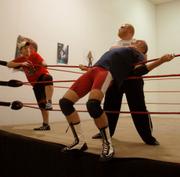 "I tried boxing, but that didn't go very well," he says.
His gimmick is priceless: a howling, bone-carrying man, as Moondog. The foundry worker says his co-workers have mixed reactions about it. But, it's fun, he says. Fun, even when it's painful.
Meanwhile, 23-year-old Ryan Burke has only found support.
"My mom's really into it," he says. "She even paid for me to do it."
Burke says he performs as himself in the ring and has had several matches with friend, World Class Kevin Bradway.
"We grew up watching wrestling together," Burke says. The friends are scheduled to meet up in the ring at the benefit.
HIs family, including aunts and uncles, are supportive, he says. "They all say they didn't know I was athletic."
Wrestling is all Burke has ever wanted to do since childhood. Monsters of the Ring gave him that dream.
26-year-old Scott Prodigy can relate.
"I don't want to use the word dream, but wrestling has always been a goal," he says.
The wrestler says, "Any way I could lend a hand or volunteer my talents or skills for a better cause, I'm more than happy to help out."
To purchase tickets, call Austintown Detective Ray Holmes at (330) 270-5109 or Ed Anthony at (330) 540-6956.
For more information on the school, call (330) 770-4489 or (330)740-0024.
More like this
Sponsored Content
Loading Family Features Article