Haven releases debut CD
Published: Sat, December 8, 2007 @ 2:02 a.m.
Photo Gallery
Haven CD Release Party at The Cellar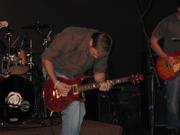 Friday night, Pittsburgh-based band, Haven, released its debut CD at The Cellar in Struthers.
Brothers Mike (lead guitar), Neal (bass, vocals) and Joel (guitar, vocals) Benedict were originally from New Castle, Pa., so releasing their CD closer to home was the best option for them.
"We have so many people we grew up with here," Mike said.
Besides playing at The Cellar, Haven has played at local venues like The Wedge in Austintown and the now-defunct Salty Grogs in Austintown. The band was also featured on the Home Grown radio program last Sunday on CD 93.3 The Wolf.
They said their debut CD, "Calling All Conflicts," was recorded in a basement called The Audio House outside Pittsburgh, but was mastered at Vestman Mastering in California. The CD costs $10 and has 11 tracks.
Haven became complete about two years ago with the addition of drummer Pat Connolly. Since then, the band has been writing songs in hopes of eventually putting out a CD.
"We've been writing songs for a while, but this is the first time all of us have got into it," Joel said.
Haven falls into the genre of alternative rock, but Mike said when people ask what their music sounds like, all he can say is "it's rock."
But Neal thinks it's deeper than that: "A lot of us have had our own input. It's a lot of personal stuff."
When asked what they would have done differently after-the-fact, Mike said other than a few artist critiques, they would have promoted it better. The rest of Haven agreed.
"We're really laid back," Pat said. "It's like we wait for shows to come to us."
At the end of the day, Haven does it all for one reason: the fans.
"The reason we're doing this is for our fan base," Neil said. "The 'Haven Nation' is everywhere."
Local bands Something to Shelter and A Tragedy Within opened for Haven. The show was sponsored by Third Arm Promotions.
Sponsored Content
Loading Family Features Article