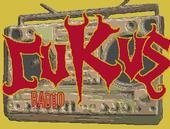 ruKus radio provides musical alternative
Published: Wed, December 19, 2007 @ 8:31 p.m.
'Blasting forth with complete disregard for the mainstream.'
The Kellys are causing a ruKus again, only this time, it has the potential to reach fans all over the world.
ruKus radio, an Internet radio program, was started in August by Kellys' bassist Moe Angelo and local acoustic performer Trevor Quillan. They named it ruKus after The Kellys' independent record label.
Angelo said the idea started about three years ago, but since meeting Quillan, the idea has become a reality. Quillan brought the knowledge and experience that was necessary for Angelo to make ruKus radio happen.
Currently there are six and a half episodes available for download, including the newest episode that premiered this week.
Episode .5 was launched in the midst of a time crunch with VexFest IV. Since August, episodes have been recorded in the form of podcasts.
During an episode of ruKus radio, expect to hear indie music from all over the world mixed with enlightening conversation.
"We're spanning all genres," Angelo said. "I don't care what it sounds like. I just love having the freedom of playing whatever the fuck I want."
Trevor Quillan of Furthermind Promotions considers himself to be the "color commentator" of the show, but when ruKus radio goes live, just after the first of the year, he'll be in charge of programs and the technical aspect of operating an Internet radio station.
Quillan says ruKus radio is so diverse and independent that it can't be classified in any genre.
"Our mission is to further every single person's mind in the world," Quillan said.
Angelo said while the language restrictions aren't like commercial radio, they do try to keep the topics respectable. He said, though, that some of the talks are really heated because they're passionate about what they discuss.
Regarding their choice of topics, he said, "There are some things we just don't want to touch. We prefer not to offend mass groups of people if at all possible. Even in humor, people still become offended."
Angelo said his main reason for creating ruKus radio is to give bands and performers an alternative outlet. He's been writing and playing music for years, he said, and wants to give artists another avenue for exposure.
And his band is backing him 100 percent.
The Kellys' lead singer Kelly McCracken said ruKus radio has always been Angelo's idea. She said it helps The Kellys with what they're doing while helping other local and national indie bands.
"I've always been all for it," McCracken said. "We care about music as a whole. It's giving everyone else the chance to have their music played. Though there has been no commitment made, McCracken says she has talked about having her own show when ruKus radio begins streaming live.
The episodes are available now on Valley24.com. Angelo said he's hoping that after the beginning of the year, they'll be streaming simultaneously from Valley24.com and www.rukusradio.net.
Sponsored Content
Loading Family Features Article