A haven of nostalgia and Pabst
Published: Wed, June 27, 2007 @ 1:02 p.m.
By Sarah Poulton
Valley24.com correspondent
Walk through the door of The Royal Oaks Bar and Grille, and you walk back to the days of Youngstown in its prime.
Steelworkers, just getting off work, would make a pit stop at the corner bar.
You can almost picture them walking through the door and being greeted by co-workers, former co-workers and other blue-collar proletariats.
Those days left with most of the steel manufacturers, but they live on through spirit and culture at the Oak Street tavern on Youngstown's East Side.
A husky man with a crew cut and a city boy's "farmer tan" was sitting at the bar one recent evening, drinking a frothy draft beer and wearing a shirt that read, "The Royal Oaks Bar and Grille. Where you come for the food. But stay for the booze."
Place
924 Oak St., Youngstown
Another day, in the same seat, a man named Tony, who claimed to be running for mayor, sat at the bar and hit on every girl who was too young to remember the Reagan presidency. In front of him, almost hidden by the bling on his wrist, sat a 16-ounce glass tumbler filled with ice and cheap red wine.
The souls at the Oaks seem to have been friends for years. People from all lifestyles and backgrounds embrace each other's company. A white, blue-collar worker in heavy boots socialized with a black man in a white-collar shirt. A young man in a cut-off shirt was engrossed in conversation with a man old enough to be his grandfather.
Outside the main entrance, two 20-something blonde women were arguing with someone inside.
"Bitch, don't you know who I am," one of them said as she was wiping the tears from her sunken face.
The women's bathroom has one door and two toilets. It is painted half white, half bright teal. The walls are bare, except for the lyrics of "Dear Prudence" written in permanent marker.
The smell of stale cigarette smoke lingers in the air, and if you look hard enough, you can almost see smoke rings circle in the breeze from the ceiling fan.
Take away the four TVs, the light-up marquee, and the sound of Journey playing on their Sirius Satellite Radio, and you feel like you're back in Steel Town USA, 1965. Almost all of the meals on the menu are priced under $8, and you can get a Honey Brown draft for less than two bucks.
Along with the salt and pepper on the table, each setting comes complete with a napkin dispenser and a stack of moist towelettes. Much of the bar hasn't changed a bit, but the rest can be attributed to the bar's owners, the Kennedy brothers.
John and Lou Kennedy of Youngstown bought the Oaks about six years ago. John Kennedy said it was Louie's idea, but Louie said otherwise.
Louie Kennedy said he and John thought it would be cool to own a bar at some point in time. He said he wasn't sure they were being serious until the owner of the Oaks suggested they buy his bar. They both said they were intrigued, and decided to go for it.
John Kennedy said when they were younger, a group of them used to hang out at the Oaks. Almost 10 years before the Kennedys bought it, the bar closed because of construction on U.S. Route 422. It closed the bridge connecting the East Side to downtown, so the bar wasn't accessible.
When the time came to purchase the Oaks — nearly six years ago, John went from being a laborer at Garland Welding by day and a maintenance man at Lincoln place by night, devoted himself to the bar. But when the brothers went to find a loan, they couldn't find a bank willing to finance them.
Every loan officer and bank manager they talked to said that the bar business is too risky for them to finance, John said. What they failed to realize, he said, is that there's been only three owners in the history of the Royal Oaks.
"It's been here for fucking 70 years," John said. "How is that risky?"
After talking to people at different banks, Louie had to take a home equity loan against his house to put together a downpayment on The Oaks, John said.
The Oaks was built in 1919 and was established as The Royal Oaks in 1934 as the first Youngstown bar to get a liquor license after prohibition was repealed, he said.
Aside from being the oldest bar in town, people come from all over to eat their famous barbecue ribs.
"How many people actually come to the East Side of Youngstown for any reason?" John asked. "Everyone has a preconceived notion of this place. It's nice when those people come here... and that preconceived notion goes away."
He says being close to Youngstown State University is good for his business, but he gets more professors and union workers than students.
"They're not the binge drinkers who are going to throw up all over my bathroom," he said. "It's nice."
Louie said he appreciates the people he and his brother bring in. He thinks what most people like about the Oaks is that it's not a chain. It's like "Cheers," where — as the song goes — "everybody knows your name." He could walk into the bar at any moment and be able to identify almost every patron, he said.
"Neighborhood bars are quickly vanishing," Louie said. "It's dirty and it's not pristine in any way... It's great to go into a place and feel like you're family. That's what's being eliminated with the chains."
"My people like knowing the owners," Louie said. "If you don't like something, you can call me. You have my number."
He said his other favorite thing about the bar is that he never knows who is going to walk through his door and order a slab of ribs and a cold draft.
"I get a truly eccentric crowd of people from Jerry Springer and Kelly Pavlik to Anna Nicole and crackheads," Louie said. "That's the greatest thing about this place. You never know what a storm's going to wash up."
Joe Halas of Austintown has been a regular at the Oaks since the Kennedys bought it. He said he started going there because of Johnny, but now he goes there for good friends— and because it's easy to drop off the freeway (I-680).
"They're excellent people, both Johnny and Louie," Halas said. "I believe people come here because of them. That's why I started coming down."
Halas said he likes going to the Oaks because the customers are diverse. Even if you walk in for the first time and don't know anyone, you can still feel at home, he said.
"It's unique," Halas said. "This is the oldest bar in Youngstown. It's nostalgic. If the walls could only talk."
He said the bar has good bands and music, and some odd events. Every Saturday afternoon, the bar has a Baggo tournament. Baggo is a game in which players take turns pitching small bags filled with corn at a raised platform with a hole in the far end.
Aside from some decorations, nothing has changed, Halas said. "Everything's original. You don't want to take anything out of here, that's why people come here, for originality."
Halas said that because of YSU, the bar gets packed, but there's never been any real trouble. The place is very safe and YPD keeps a close eye on it.
John Kennedy said they still have a good business going, and most nights are still wall-to-wall, even with the recent smoking ban. He said he wants to add on an outdoor smoking porch, but still thinks the ban is ridiculous. He doesn't understand why he couldn't hang a sign on the door stating that this is a smoking environment and people could choose to not enter, he said.
Photo Gallery
The [Not-so]-Royal Oaks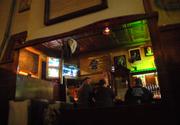 "The same people who wouldn't give us money are telling me how to run my business," John remarked sarcastically. "It's bullshit."
He claims that the Jagermeister dispenser is his favorite item in the bar, but people who are close to him know he holds something else close to his heart. In the far right-hand corner of the bar near the ceiling is a giant, dusty Schaefer beer can. When he was young, he said, he and his best friend, Steve, were Schaefer guys. It commemorates one of the worst moments of his life, he said — when he got a phone call, several years ago, saying Steve had died in the Royal Oaks' parking lot from carbon-monoxide poisoning.
"That was the saddest day of the Oaks' history," John said. "I almost thought about shutting this place down, but me and Steve had some good times here."
On one of the anniversaries of his death, a bunch of their friends got together to drink Schaefer and made a pyramid out of the cans.
The Oaks is filled with memories, both good and bad, Louie said. As much as he adores his bar, there are some things that he would love to change, but people beg him not to. When he considers putting a fresh coat of paint on the men's room, his customers tell him, "Don't...we like it the way it is."
Not even the paint, they say. And it makes you ponder: in a place that so completely embodies a once-booming city, is change a good thing?
Q&A with John Kennedy, co-owner of The Royal Oaks
Interviewed by Sarah Poulton, Valley24.com correspondent
Why did you buy the bar?
It was actually my brothers idea. He always wanted to own a bar and he asked me if I'd be interested in helping him out and I said sure. So I quit both my jobs and ran a bar. I did that for five years and just recently went back to work.
What changes have you made in the past 6 years?
Actually, nothing physically, per se, with the exception of a few decorations. Main thing is the food quality, and a little more stable hours of operation. But nothing, that's why I like the place. I don't want it to change. I like it, it's a good blue collar, hard drinking bar. I don't want to change that.
What's up with Pabst Blue Ribbon night?
It's a special night when we have after-work parties for hard working guys. We run specials on PBR, have a band, the guy from Pabst comes down and hangs out with us. We're just a big Pabst bar.
What is your favorite thing about the Royal Oaks?
Definitely the clientele. It's the real life "Cheers." Everybody kind of knows everybody. Even if you're a stranger, you come in, you buddy up to everybody. They're nice to you and there's no real pretensions going on.
What would you change if you could?
If you ask the women, they would say the bathrooms, but I want to put an addition on, like an outdoor patio. That's my goal for the next few months. I want to make that a reality.
What was the most outlandish moment at The Royal Oaks?
Oh my, there's been so many, it's hard to just pick one, but if I had to pick a favorite day, it's usually our Halloween Party. As far as picking one, that's pretty tough.
What is the bar famous for?
Probably the wings and ribs. Sure, it's Youngstown's oldest bar, but that doesn't bring people in as much as the ribs do.
What's your middle name?
Fitzgerald. I was born after he was president and what happened was JFK came through Youngstown and my father shook his hand. He was totally captivated by the charisma and the charm. You know, everybody was during the Camelot era. So after he was assassinated, my father said if he ever had another son, that's what he was going to name him. When I asked my mom about it, she said if I would have been a girl, my name would be Joanne. It was never even an issue. I was always going to be JFK.
What's your favorite part of the bar?
It's a toss-up between the Jager machine and my gimp mask. The gimp mask is a leather mask, like the one in Pulp Fiction. I always cook in a rubber apron, so when I'm drunk, I put on the gimp mask and run around. It's always good to creep people out.
How does this place describe Youngstown?
That goes back to blue collar work ethic. These guys work hard and come in after work and drink hard. It's the old school Youngstown mentality. You know: you work hard, you play hard. That's what made Youngstown great and that's what we're losing.
More like this
Sponsored Content
Loading Family Features Article