Faces of 2010 exhibition opens at YSU's Bliss Hall Gallery
Published: Mon, October 15, 2007 @ 10:35 p.m.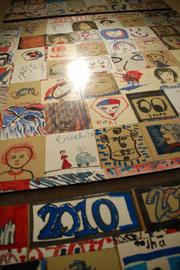 YOUNGSTOWN — Years of gathering drawings led up to the opening of a short gallery exhibition of Youngstown 2010 "Faces of 2010" in the Bliss Hall Gallery at Youngstown State University.
The exhibition displays 31 panels of drawings, each six-by-six inches and depicting either the artist, Youngstown or 2010. Project coordinators say that, ironically, there are a total of 2,010 pictures in the collection.
The art will be available for public viewing through Oct. 25. It's the only time the panels will be displayed together, as applications are being accepted for each panel to be on "permanent loan" from the city. Coordinators say the most important requirement for a panel to be sent out is that it is placed in a high-traffic area.
Ten of the panels may be recognized from their previous and temporary locations downtown, including outside on Federal Plaza and inside the Mahoning County Courthouse Annex.
Chief City Planner Anthony Kobak says the public art project was originally designed to increase awareness of the Youngstown 2010 plan. The Faces of 2010 began after the vision process, but before the plan.
Jack Carlton, professor of art at Hiram and YSU, is the artist behind the project.
Carlton said Stacey White, community advocate for Youngstown 2010 , came up with the idea for a "Graffiti Bomb" project. He wanted it to be inclusive, and came up with the idea of doing faces late one night, lying in bed.
"Everyone should be able to draw a face," Carlton explained.
And even for those who couldn't, they could draw the word "Youngstown" or "2010" that adorns the panels.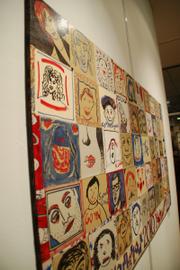 Kobak and Carlton said drawings were collected at First Night Youngstown 2004 and the 2004 Summer Festival of the Arts, along with drawings from Carlton's art classes.
CityScript coordinator Dominic Gatti got involved with the project this summer. He said he got all of the drawings back together, organized them and helped to re-collage and re-varnish all of the panels so they could withstand Ohio winters. CItyScript is a new public art program Gatti, of Rusty Waters Apparel fame, helped to create.
One of the most interesting of the panels is number 31, which includes faces of local teens who were held at a juvenile detention center. The self-portraits on panel 31 are noticeably bleaker. Carlton said he worked with those people through the Students Motivated by the Arts (SMARTS) program.
He said he hopes the art will be well maintained and displayed by the recipients, as he considers the work to be a "gift to the city."
The panels are also available for viewing in an online gallery, on the 2010 Web site.
Sponsored Content
Loading Family Features Article