Mill Creek Park offers cold weather fun
Published: Tue, December 2, 2008 @ 7:26 p.m.
YOUNGSTOWN - The weather outside is frightful, and organizers at Mill Creek MetroParks know that's just how some people like it.
Ginny Elser, special events programs manager for Mill Creek MetroParks, says the park district's indoor and outdoor programs continue through the winter.
"We know that people like being outdoors in all seasons," she says.
In that spirit, the calendar of special events, outdoor recreation and educational classes at the Mill Creek MetroParks is as full in December as it is any other month of the year.
The winter and holiday programs started Sunday with Olde Fashion Christmas at the Mill. The event brought together all ages of people for chestnuts roasted over an open fire, a variety of vendors, musicians and time with Santa.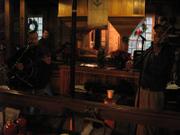 Elser says the event is more than 18 years old and brings 5,000 to 6,000 people to Lanterman's Mill for the two days its held.
Gardens by Candlelight is coming up Dec. 14. Arlene Lanz, visitor services manager for Fellows Riverside Gardens, says the staff will begin decorating this week for that event and their winter celebration, Golden Holidays. Gardens by Candlelight will feature twinkling lights and candles the gardens, carolers, ice sculptures and hot cocoa.
The event is free for all ages, and Lanz says anyone from grandparents to grandchildren would find the event to be "a lot of fun."
She says they're encouraging the public to bring canned goods to the event, from 5:30 to 8 p.m., to benefit Second Harvest Food Bank.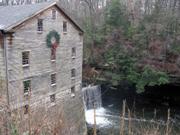 Fellows Riverside Gardens will remain in a festive, holiday spirit throughout December with decorations from Golden Holidays remaining through Jan. 4. There will be Christmas trees decorated by local business and organizations, a room decorated in the theme of "Bizzy Towne" for kids and holiday trimmings, like poinsettias, on display inside.
On Sundays, there's a brunch offered in the Garden Cafe and the Shop in the Gardens will sell holiday gifts.
There's a number of horticulture classes also being offered in December, for those who want to create their own holiday decorations.
Gardens by Candlelight
When: Sunday, December 14, 2008, 5:30 p.m. to 8 p.m.
Where: Fellows Riverside Gardens, 123 McKinley Ave., Youngstown
On Dec. 10 and 11, Dolly Vivalo will teach a class on making a holiday garland. Dec. 16 and 17, Debby Clark will teach a class on making a holiday center piece with fresh flowers, greens and pomegranates. Dec. 19, There will be a class that begins with a walk through the gardens, a light breakfast and a class on deciduous and evergreen holly.
The registration fee varies by program and residential status.
Mill Creek naturalist Bob Coggeshall says there are hikes planned year-round.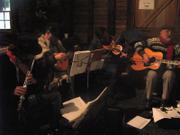 "Hiking is a year-round activity," he says, noting his involvement in snowshoeing and winter camping.
He will host a hike in January that includes photography lessons along the way.
"Some hikers do every hike every weekend," he says. "They're a very loyal group."
December hikes include an exploration of the Lily Pond area Dec. 7, a moonlit, 4-mile walk Dec. 12 and a 1-mile walk starting at the MetroParks Farm Dec. 14.
On the winter solstice Dec. 21, there will be a 3-mile hike of moderate difficulty around Lake Cohasset. On the next Sunday, Dec. 28, Mill Creek Park's largest lake, Lake Newport, will be the focus. This hike is rated difficult due to its 5-mile length.
There's also fast-paced recreational hikes with a focus on exercise in the outdoors on Wednesday mornings through the winter.
Place
123 McKinley Ave., Youngstown
Lanz and Elser say yoga and t'ai chi will continue being offered at Fellows Riverside Garden during the winter. There several different classes and are offered on every day except Monday and Friday.
Elser says the park tries to find opportunities for active and passive participation.
"There are programs where people can look and take things in, or get involved by joining in," she says.
Information on programs for children and details about the events included above can be found at millcreekmetroparks.com. Information is also available by calling the Fellows Riverside office at (330) 740-7116.
Sponsored Content
Loading Family Features Article