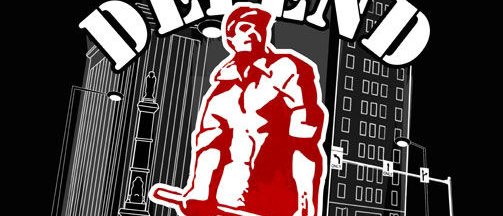 Youngstown gets new event planner
Published: Tue, January 15, 2008 @ 3:29 p.m.
Defend Youngstown creator Phil Kidd, Youngstown's new director of events, special projects and community outreach, says he plans on raising the bar on what people expect when they come downtown.
"I've already told the people I've met in City Hall, 'I want you to be tired of me. I want to be in your face so much that you just want to get rid of me,' " Kidd said.
He signed a $41,124 contract with the city Tuesday, replacing Claire Maluso, longtime Federal Plaza director. According to The Vindicator, Maluso will help Kidd with the transition, staying on for "a short period" and getting paid no more than $6,000 or $7,000, according to Mayor Jay Williams.
The position, also known as Federal Plaza director though the plaza has been removed, is appointed by city council, whose members voted Kidd with a 6-1 vote during council's first meeting of the year Jan. 7.
"I don't see this as an eight-hour job. It's not even a 10-hour job," Kidd says. "I'm going to keep going until I get kicked out at night."
Kidd says one of the major changes will be making downtown efforts grassroots-based, bringing in community members to help plan, promote and work on downtown projects. He says he'd like to rely on implementing ideas for projects and events that are submitted by the community instead of focusing on his own.
"All day, every day, will be promotion. This is my passion: Finding ways to advance Youngstown is what I came here for," the 28-year-old Pittsburgh-area native said.
Kidd says he'll work in City Hall and answer to council, but he also plans to take a look at the job description to determine what exactly he's responsible for, and what the job has or hasn't included in the past.
"I'm going to build upon what's been successful," he said.
First on his agenda is creating a Downtown Youngstown Web site, Facebook account, MySpace page and blog, which he says will be similar in structure to his Defend Youngstown online efforts. He says the Internet presence is just one of the things he's found that surprised him didn't exist already.
In advance of taking the position, Kidd says he already met with Youngstown State University officials. He said he plans to work with YSU interns to provide them with the opportunity to help plan and promote events, while "letting them embrace downtown and take ownership."
The internships would be paid, one semester jobs; the interns wll be required to have a passion for revitalizing the city. One project he says they'll be working on is doing surveys of visitors downtown at events to see where people are coming from. Where they note a lack of attendance they can send questionnaires out to residents in hopes of determining what could bring that downtown.
One change Kidd says Mahoning Valley residents can expect to see is more events linked with existing downtown businesses, similar to Buffalo Wild Wings' summer concert series, Party on the Plaza. One of the first events of his doing will be a St. Patrick's Party that coordinates and involves all downtown establishments.
Another project party-goers could find useful is the reactivation of a downtown trolley. Kidd says there's no timeframe for creating the trolley, but it's "one of top agenda items." According to Kidd's vision of the trolley, it would be on a circuit around downtown and campus, making stops at bars, venues and restaurants.
Among the other projects, Kidd says, is a plan to reactivate and merge the Youngstown Arts and Entertainment District Association and the Downtown Business Owners Association. He says he plans to have a casual meeting first, then hopefully have the groups work together to create an organized business and entertainment organization.
One of the advantages he brings to the table, Kidd says, is a close working relationship with Phil Moore, executive director of the Mahoning County Convention and Visitors Bureau. Kidd says he and Moore will "combine resources to cross-promote similar interests."
As for Defend Youngstown, Kidd insists that the Pro-Yo community won't see any changes. His new job and Defend Youngstown mission statement are very different, with Defend Youngstown being much more politically oriented, he said.
"One plays off the other," Kidd says.
And to be certain he's working within his job description, Kidd says a change he's starting immediately is to make his work "completely transparent" to the public.
And as for profits from the Defend Youngstown T-shirts, Kidd says he'll continue making sure the profits go to events elsewhere in the city, such as work being planned for Wick Park on the city's North Side.
Sponsored Content
Loading Family Features Article