Main Street Theater re-opens
Published: Tue, May 13, 2008 @ 7:38 p.m.
Photo Gallery
Main Street Theater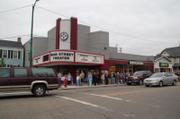 COLUMBIANA - For months, the marquee of the Main Street Theater read, "Coming Soon."
At the public open house last Friday, new owners Don and Dawn Arthurs said they've learned to not say, "Coming Soon."
It took a total of 15 months to complete the interior and exterior renovations of the theater. At the city's busiest intersection - well, traffic circle - the theater's construction started to garner a lot of attention from residents.
Nearly 1,000 people attended the open house, lining the block for their first look at the mostly-new theater.
According to a press release, the theater has 440 new seats under a new roof, and a remodeled entry, restrooms and a snack bar. There's also newly-soundproofed walls, new sound system, new electrical system a new motorized screen, two new dressing rooms and new lighting.
During a welcome speech, Don Arthurs, 31, choked up while thanking God, his wife, kids and others who helped during the renovation. He said he hoped that the theater would provide a "retreat from the mundane" and showcase talents of the community.
Place
5 N. Main St., Columbiana
Arthurs is also a founding member of Youngstown company, Turning Technologies. He said he got involved with every aspect of the renovations.
A short documentary by Accent Media was played for several packed audiences, telling the story of the theater's transformation from old movie house to one of the most interesting Mahoning Valley venues.
Theater manager Tammy Crismon said they hope to host many forms of entertainment, including musical revues, comedians and bands, in addition to movies at the theater.
"The goal is make sure we're providing a wide variety products," she said, noting they plan on showing first-run movies, second-run movies, classics and provide live entertainment.
During renovations, the stage was extended 1,000-square feet, making performances possible. At the open house, entertainers Mary Jo Maluso and Rick Blackson performed a short musical revue featuring movie songs starting in the 1950s, when the theater began showing films.
At the end of June, another musical revue is set for production, entitled "Hooray for Hollywood: A Celebration of Movie Music." In July, musical "A Soldier's Tale" is set for production.
The first new release Main Street Theater will play is "Indiana Jones and the Kingdom of the Crystal Skull," which is slated for release May 22. Crismon said they intend to show movies six days a week.
Video: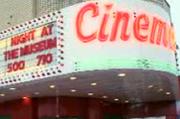 In addition to the theater, the Arthurs also renovated the Encore Café, which is next door. The restaurant opened in February and offers breakfast, lunch and dinner in addition to a complete coffee bar.
Encore Café offers the same upscale ambiance as the Main Street Theater, with tasteful furniture and decor. According to the press release, live music is also planned for the café.
Sponsored Content
Loading Family Features Article