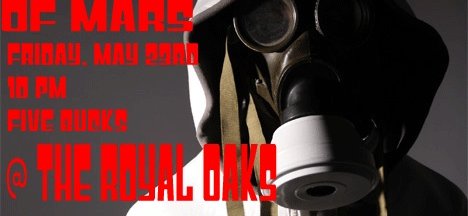 Rock meets Country at blue-collar bar
Published: Thu, May 22, 2008 @ 9:39 a.m.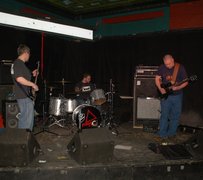 Photo by
Whether there's a packed-house or only the usual suspects, Friday's show at the Royal Oaks, featuring The Mountains of Mars and The Robbie Jay Band, will cross rock with country and should produce a beer-guzzling, come-as-you-are, rowdy atmosphere.
Lucas Goleb, bassist for The Mountains of Mars, said not only is this their first show at The Royal Oaks, but this is also their first time headlining, as well.
"We're kind of excited about it," Goleb said. "Hopefully, folks show up and hopefully, folks dig us."
One of the most interesting aspect of The Mountains of Mars is that while they definitely fall into the rock genre, they resemble a jam band in the fact that if a song is going well for them, they may go with it and make it longer. They also don't have a vocalist, so they let the music speak for itself.
"It's like telling a story with words; sometimes you really go nuts and go into great detail, and sometimes you give a real abridged version, but your point gets across either way you do it," Goleb said. "We can play something for 20 minutes or two-and-a-half minutes. It's the amount of detail you want to give. If we play two shows with the exact same set list, they would end up being different shows."
Goleb said when they formed the band, they had all intentions of having a vocalist. He said they couldn't really find one that fit, so they went without one.
He said they considered having one of the current members sing, but as a whole, they don't have a lot to sing about. Goleb said all of the members are in their early thirties, are gainfully employed and have stable relationships. While these are all positive things, he said it makes writing lyrics tough.
"I'm not completely mad at the world anymore," Goleb said. "So, we just started writing stuff without worrying about it. It's actually quite liberating because we can change stuff up as much as we want — on the fly... You kind of have to write more as if you're trying to tell a story without words, which is actually kind of fun."
When they pick topics to write about, they generally come up with things that makes them laugh, Goleb said.
He said "Across the Cosmos" is about generic space travel, "Chromatic" is about crushing cities and "Swamp Buggy" is like building a motor for a 1960 Ford Econoline.
"We name stuff just cause we think it's funny," Goleb said. "[Drummer Dom Ferrera] comes up with most of the stuff and he giggles."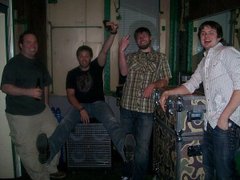 While this is The Mountains of Mars' first headlining appearance, this is only the second show for opening act, The Robbie Jay Band.
Lead singer Robbie Jay spent the last year playing a solo act, inspired by artists like Johnny Cash and Waylon Jennings.
"I guess I always wanted to have a band," Jay said. "That was the goal at some point, but it was a matter of finding the right people to be in the band."
The Robbie Jay Band played their first show May 4 at Tully's with The Mountains of Mars. They said they had a pretty good turnout — about 200 people — considering they took the stage at midnight on a Sunday, with a $10 cover at the door.
"We're anticipating a large crowd [Friday], but it could backfire," Jay said. "The word's been hot on the street as of lately."
The four-piece considers themselves "Texas-country" that plays "red dirt music"— an offshoot of indie country.
"It's a 'freer' form of country," Jay said. "Not-so-Nashville. It's everything from rock 'n' roll groups pretending to be country to soul sounding guys pretending to be country."
Jay said he's been influenced by everything from "The Dukes of Hazzard" to hip-hop. As the primary songwriter, he said their music is spread over genres, and is difficult to classify.
'We like to pretend we're country, but Kenny Chesney people might scratch their heads," Jay said. "We're just your average bar band, rock 'n roll, drinks, a good time. I guess we're not there to reinvent the wheel or be the most technical group. The stuff we play is the stuff we live, real stuff presented in a good time way."
ruKus radio presents: Mountains of Mars with the Robbie Jay Band
When: Friday, May 23, 2008, 10 p.m. to 2 a.m.
Where: Royal Oaks, 924 Oak St., Youngstown
Sponsored Content
Loading Family Features Article