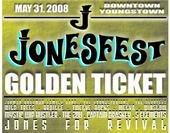 Summer festivals start with JonesFest
Published: Tue, May 27, 2008 @ 1:18 p.m.
The first of many summer outdoor music festivals in the area is set to happen this weekend— rain or shine.
JonesFest, put on by local jam band Jones for Revival, is set to start at 2 p.m.,Saturday on West Federal Street with the first band performing at 4:20 p.m. It is a free, all-ages event that will include much more than music.
Jones front man Jim DeCapua says Cornholz.com will be doing cornhole games all day and the festival will play host to a mechanical bull. Also, Mr. Belvedere will be outside DJing in between bands.
"It's pretty much an all-day party," saxophonist Fred Burazer of Jones says. "It's like, half-backyard barbecue, half-carnival, but with all-day music."
DeCapua says when finding acts for JonesFest, they tried to focus on bands that could be considered, "jam bands," but also on lesser-known bands outside that genre.
"A lot of these bands, like Melva, they're fucking good," DeCapua says. "There's a lot of talent that doesn't get out there much."
Place
Federal Plaza, Youngstown
DeCapua says their main goal was to get a solid lineup, so along with the 12 bands playing at the fest, magicians Jason Alan and Captain Kevin and comedians Murad Shorrab and Mike Burlon will be featured. Acoustic acts Dennis Drummond and Zach Paxson will also be performing throughout the day.
"At any festival, when you just have music, you can get a little bored," drummer Gino West says.
"It's just gonna be nothing but positive, and that's what's gonna make it sweet," DeCapua says.
Twelve Bucks, Winslow, Mystic WIP Hustler, 5 Elements, The Zou and Jones will be playing on the outdoor stage, while Melva, The Youngstonians, Wild Trees, Jahman Brahman Family Band, Braille, The Devotees and Captain Braskey will be playing on the stage inside Barleys. Jones will be playing a two-hour set, and you may see some unfamiliar faces onstage as DeCapua says Jones may be expanding. He says ideas are in the works, but nothing is set in stone.
Place
21 W. Federal St., Youngstown
"It's a recognition of the local musicians and artists," bassist Matt Hahn says. "I think the lineup includes numerous bands we're happy to help expose."
Burazer, who is also a member of Twelve Bucks, says this is one of those "kick-off the summer shows" that if the people come out for it, the bands involved will get a lot of positive response.
"Jim [DeCapua] still really believes in the music, and he's one of the few that still do," Burazer says. "He's got the right bands, the right music and he took no short cuts."
DeCapua says that he considers a lot of the bands involved somewhat friends of Jones. He says he hopes everyone comes out to have a good time and appreciate the work these local artists have done.
"I'm really excited that we can be a part of the revitalization of downtown Youngstown, whether it's Youngstown 2010 or 2020," DeCapua says. "...It'd be sweet if everyone came out and had a great time. We're trying to give back, support the scene."
"It's a musical party," West says. "It's gonna make people happy."
Friday, Barleys will be celebrating JonesFest Eve with the Jahman Brahman Family Band and Mystic WIP Hustler. The show starts at 10 p.m. and cover will be $5. In addition to Sunday's "JonesFest Friendly" Homegrown Show, which is available for download here, members of Jones will be interviewed on CD 93.3 Wednesday at 4:30 p.m.
JonesFest
When: Saturday, May 31, 2008, 2 p.m. to 1 a.m.
Where: Federal Plaza, Federal Plaza, Youngstown
More like this
Sponsored Content
Loading Family Features Article