Barzak's second novel to hit stands
Published: Tue, November 25, 2008 @ 7:54 p.m.
YOUNGSTOWN — It's been said that you have a lifetime to write your first novel, and about year to write your second.
For local author Chris Barzak, this wasn't an issue. His latest novel, "The Love We Share Without Knowing" is set to hit stands today — almost 15 months after his first novel, "One For Sorrow."
"The Love We Share Without Knowing," released by Bantam Books, is a collection of short stories based on Japanese natives, visitors and supernatural beings. Barzak taught English in Japan from 2004 and 2006, and his experiences help create a life like quality to the novel.
While living in Japan, Barzak says he tried to experience all the country had to offer. He had the privilege of exploring a lot of the country and its respective societies. "The Love We Share Without Knowing" meshes lives of people from rural and metro societies and shows how one person affects the lives of many without realizing it.
Barzak began writing about one month after he arrived in the small, rural town of Ami, which is about an hour north of Tokyo. At first, he was writing short, fictional pieces. Later, he realized he unconsciously connected the characters, creating a larger-than-life picture of how he perceived the situations around him.
The short stories are inter-connected, each one picking up indirectly where another left off. His beautiful use of words and descriptions paint vivid pictures of both wonderful and devastating images. Barzak meticulously addresses taboo issues in Japanese culture, such as suicide and homosexuality. Amid fairy tale references and unlikely circumstances, Barzak lifts the proverbial veil and brings these subjects to light in thoughtful and emotional ways.
Near the beginning of the novel, four friends create a suicide pact. Barzak says in America, people tend to commit suicide on their own, suicide groups have been a trend in Japanese culture.
"[Suicide groups] are very real in Japanese society," Barzak said. "It's built into culture. If they've been shamed or dishonored, it's honorable to take their life."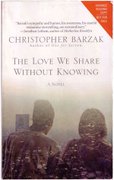 Barzak also takes readers through the eyes of a blind man, the solitude of an American teenager and the loneliness of a young fox living in a girl's body. Barzak delicatly shows struggles of abandonment and solutions to finding acceptance in one's skin.
The central theme of this novel seems to be love. Whether it be love for a partner, a friend, a family or oneself, Barzak stresses how love is one element that cannot be brushed to the side. He shows how different beings can live their lives, or go through the motions, and share a love without knowing.
The Oakland Center for the Arts will host Barzak's book launch Saturday from 7 to 10 p.m. The evening will include readings, a book signing and refreshments. Representatives from Barnes & Noble will be selling copies of the book. The Artists of the Mahoning Commons will display their creations inspired by the novel.
Barzak will also have book signings at Borders in Niles on Dec. 6 and Barnes & Noble in Boardman on Dec. 10.
Sponsored Content
Loading Family Features Article