'Grey to Green' follows through on 2010 plan
Published: Tue, September 9, 2008 @ 11:49 p.m.
YOUNGSTOWN — When the Youngstown 2010 plan was released, a portion of it read, "The desire for a cleaner and greener city was constant. A key to this 'gray to green' transformation is the creation of a green network."
Three years later, Atty. Deb Weaver has coordinated the Grey to Green Festival at Wick Park Saturday to highlight the 2010 gray-to-green concept.
"We're trying to increase awareness of environmental issues and also trying to increase the 'grey to green' part of the 2010 plan," she says. "It's important to become more educated on these things because Youngstown needs to get to the forefront on these 'green issues.' "
The 2010 plan zoned more land use for green space. It says, "Youngstown has always had green space and recreation, but it has not been the focus of a comprehensive city plan, let alone examined from a regional perspective." The Youngstown 2010 Citywide Plan is calling for a greener Youngstown.
One way the plan set out to achieve a greener city was through the use of "industrial green" land use.
Chapter six explains that the 2010 plan includes industrial green as an official land use. It places about 3,300 acres of land from other uses into this new category. Most of that is shifted from the other industrial categories, but some residential and commercial areas are also shifted. Industrial green differs from previous classifications by requiring non-polluting, environmentally friendly industries. The classification also encourages preservation and rehabilitation of open space as part of the design.
Steps needed to make the city "cleaner," "greener" and "better planned and organized" are outline in Chapter eight, "Implementation." The plan encourages residents, organizations and businesses to complete the recommended tasks, saying the city is only a partner in the community's revitalization — "not the sole responsible entity."
The entire plan is available for viewing at http://youngstown2010.com.
Weaver modestly says she came up with the idea for the Grey to Green Festival after talking to Phil Kidd, founder of Defend Youngstown and director of downtown special events. Afterward, she decided to follow through with coordinating the event.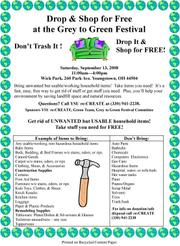 Working with Weaver was the office of U.S. Rep. Tim Ryan, the Raymond John Wean Foundation, the Mahoning County Green Team, Youngstown Litter Control and Recycling, Defend Youngstown, CityScape, ReCreate, Treez Please, Grow Youngstown, First Book Mahoning Valley, the Oakland Center for the Arts, Art Youngstown, the Wick Park Revitalization Committee, the city, Youngstown State University, YESS (Youngstown Environmental Studies Society), the Mahoning Valley Organizing Collaborative and private citizens.
According to Weaver's blog, YoungstownMoxie, "The Grey to Green Festival organizing coalition's shared belief and vision is that a collaboration of citizens, agencies, organizations, and government can mobilize communities to address important issues and solve problems in new ways by moving from problem-driven solutions to vision-driven solutions in a post-industrial era of transition where many areas such as Youngstown struggle to cope with such change."
First annual Grey to Green Festival
When: Saturday, September 13, 2008, 9 a.m. to 9 p.m.
Where: Wick Park, 1000 Fifth Ave., Youngstown
At Grey to Green, there will be yoga and tai chi workshops, vendors, a Farmers Market, activities and storytelling by Dora the Explorer for children and performances by The Youngstown Connection at 12:30 p.m. and Brady's Leap at 5 p.m.
There will also be a Drop and Shop event from 11 a.m. to 3 p.m., where attendees are encouraged to bring unwanted items to exchange with others. Suggested items to be brought are baby items, furniture, luggage, remodeling supplies and plastic products. Items not suggested include auto parts, electronics or trash/junk.
Shaklee Products will also be on hand. Weaver says if attendees bring empty spray bottles, Shaklee Products will provide a free sample of their cleaning products.
Place
1000 Fifth Ave., Youngstown
According to Shaklee Products' press kit, "Shaklee is the number one natural nutrition company in the United States. Whether it's a household cleaner, a moisturizer or a multivitamin, every Shaklee product is designed with your health in mind."
Other scheduled happenings for the event include leaf bag distribution, belly dance class and demonstration, nature walks, the NASA Aero Bus and performances by Jim Scott, Chaibaba and the Market Street Muppet Show.
Weaver is also involved with Treez Please, which was created in 2007.
According to their Web site, they are a non-profit corporation of area residents. "Our immediate goal is to plant trees and improve greenspace in the city of Youngstown. Treez Please acquires empty lots in the city which we landscape with trees and other plantings to create pocket parks in previously marginal spaces."
Sponsored Content
Loading Family Features Article