YSU Hockey shoots for a W
Published: Wed, February 18, 2009 @ 9:15 p.m.
The Youngstown State men's hockey team is making the playoffs for the first time.
As of Sunday, the Penguins (16-10-2) are in third place in their league with 32 points. They have one game left before playoffs against Washington & Jefferson College, and YSU head coach Rocky Russo says it could be a big one.
"Currently there is a jumble between spots three through six in our league," Russo says. "This could be a big game for positioning in the playoffs."
Russo says the team is currently in their third year as members of the College Hockey Mid-America league, which is a regional American Collegiate Hockey Association Div. 1 league based in Pittsburgh. According to YSU standards, the team is considered "non-varsity" or a club, not a sport.
He says they're fighting to get more recognition on the campus. Russo says the circumstances holding them back from being recognized as a NCAA program are Title IX eligibility and games must be played at an ice rink provided by the university.
"With the Chevy Centre down there, there's a possibility things will work out, but we need the university to want to commit," Russo says.
According to YSU's Web site, Title IX "Prohibits sex discrimination in educational institutions receiving Federal funds. Covers programs and activities including students loans and scholarships, access to courses, housing, health services, athletics, career services and publications."
Russo says it's common for universities to consider hockey non-varsity, mainly because of Title IX. He says there are 53 ACHA D1 teams, and more than 300 ACHA teams in the country.
"Hockey is growing, but it's not in demand the way football and basketball are," Russo says.
Russo says the team started four years ago, but it was an informal program with no league or coach. Russo says he was hired the following year and brought the team into ACHA D3, and three years ago, they moved up to D1.
Photo Gallery
YSU Hockey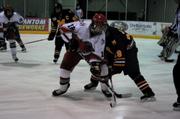 "Ohio University has had non-varsity hockey for 50 years, so for us to be a fourth year team and competing the way we are is an accomplishment," Russo says.
The majority of the Penguins' roster is made up of players from outside the area, including Chicago, Pittsburgh and Cleveland. In fact, Russo says only three members are from Youngstown.
"Obviously our main goal is to be competitive," Russo says. "Hockey is growing in the Valley, but the number of quality hockey players isn't there yet."
The team can't give athletic scholarships, so Russo says they strive to "recruit intelligent students with the intent to help them receive financial assistance" through academic scholarships and grants.
Naaman Moorman is one of those players. Moorman, originally from the Chicago suburb of Bolingbrook, Ill., was first introduced to Younstown when he was a senior in high school. He was recruited by the Mahoning Valley Phantoms in 2005 and graduated from Ursuline High School.
A year after he graduated, he was traded to a team in Santa Fe, N.M., where he played for two years. When it was time to go to college, he says he wanted to return to the area.
"They said they'd help me out with school," Moorman says, "...and I can still play hockey."
He says he hopes the university will recognize hockey as a sport, mainly because it's such a young program that is very successful.
"It seems like we're the only winning team on campus this year," Moorman says. "It'd be nice to get some support."
He says there are a small group of fans that come to games. He says a lot of their fans are made up close friends, girlfriends and members of other Youngstown State athletic teams.
Moorman says their fan base is growing, but mostly from things they personally do. He says they have parties and flier campus to gain recognition. He says that the team is used to playing in front of the same people, and he thinks the team's performance would improve if they had more support in the stands.
"The more people, the more motivated they get," Moorman says. "I just like to play, but I think it would really help the morale of the team."
Moorman says he hopes new fans will come out to support the team because they are a winning team that represents YSU. He says hockey offers a new perspective on sports because of it's fast-paced, semi-violent atmosphere.
YSU Hockey vs. Washington & Jefferson
When: Sunday, February 22, 2009, 1:30 p.m.
Where: Ice Zone, 360 McClurg Road, Boardman Township
"We have a great atmosphere," Moorman says. "We have big-hitters, play-makers and guys with all sorts of talents... it's fast-paced and hard hitting."
And it's cheap. Tickets to Sunday's game are $5 for adults and $2 for students. The puck drops at 1:30 at the Ice Zone in Boardman.
Sponsored Content
Loading Family Features Article