Exhibition explores new media spectrum
Published: Sun, June 14, 2009 @ 8:21 p.m.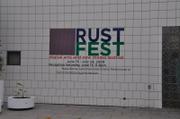 What is new media?
In general, the term describes the combining of different forms of electronic media.
In today's world, that's a broad genre as so many forms of electronic media are available to consumers, and artists. Perhaps in 50 years, we will use the term new media as we do modern, and there will be a post-new media era of work.
The McDonough Museum of Art's RUST FEST digital arts & new media festival does an outstanding job of collecting work from across the country that fits in the new media category. The gallery asks visitors to think. On one side, the artists asks you to think about something in their work.
Conversely, the gallery as a whole asks, "What is new media?"
Rust Fest is composed of more than 20 works from students in MFA programs across the country. The pieces range from a few seconds to more than an hour, are projected on the walls of the McDonough. Some are introspective question; some are documentary in nature.
On the second floor of the museum, a computer encourages passersby to view several new media Web sites. Again, some are creative works while others are some non-fiction. One site is a collection of videos from the United States Congress, completely searchable, like a library's database.
The exhibit began with a reception Saturday, featuring a performances by Potter-Belmar Labs. Jason Jay Stevens and Leslie Raymond, professors in New Media at the University of Texas at San Antonio, describe their work as "interactive" and "new media." Stevens controls the audio and Raymond controls the audio, projecting it live to an audience.
Potter-Belmar brings the enthusiasm of improv with the questioning and wonder of experimental film.
Artists in the Rust Fest exhibit include:
Jason Bernagozzi, Alfred University
Sara Bremen, New York University
Angela N. Carroll, University of California at Santa Cruz
Michael Dale and Asphid Stern, University of California at Santa Cruz
Elaine Despins, University of Texas at Santonio
Rosalina Gonzalez, Rhode Island School of Design
Nik Hanselmann and NIck Lally, University of California at Santa Cruz
Xu Houe, New York University
Amy Khoshbin, New York University
Rori Knudtson, Transart Institute
Theresa Ling, New York University
Daniel Luchman, Carnegie Mellon University
Astrid Menze, University of Minnesota
José A. Olivares, New York University
Paul Anthony Rouphail and Brian Brown, Carnegie Mellon University
Laila Shereen Sakr, University of California at Santa Cruz
H. Jennings Sheffield, University of Texas at San Antonio
Cornelia White Swann, University of Texas at San Antonio
All Tollefson, University of California at Santa Cruz
Colin Williams, Rhode Island School of Design
Gary Wise, University of Texas at San Antonio
Jody Zeller, New York University
A must-see of Rust Fest is a work by Carnegie Mellon University student Amanda Long in Gallery B. The viewer must walk past a quilt into Long's creation and sit on a matching quilted pillow. A projection screen shows psychedelic video with images of neon dancing girls, flaming roses and twirling flowers as light-hearted music plays.
The image of the viewer is captured and projected live onto the screen, merging their likeness with the production. "Miniature Gods" is a great example of combining several electronic elements in an artistic way. A description of the work hints at creating fantasy in reality, and if it doesn't accomplish that, it's at least a very innovative creation that's fun for viewers.
Some of the footage in Rust Fest is not intended for younger audiences and signs warn that viewer discretion is advised.
As technology grows more accessible and becomes a larger part of more lives, it will become inseparable from more traditional forms of self expression.
Rust Fest is on display Tuesday through Saturday from 11 a.m. to 4 p.m. and is free to the public.
Sponsored Content
Loading Family Features Article