Women's roller derby comes to Youngstown
Published: Wed, March 4, 2009 @ 3:46 p.m.
Video: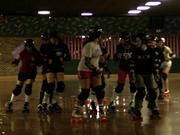 The Women's Flat Track Derby Association has sanctioned roller derby leagues all over the country, including leagues in Pittsburgh and Cleveland, and Youngstown may be next.
Tifany Griffith of East Palestine says she fell in love with the sport last year, and is now doing her best to make a Youngstown league a reality.
"I just love roller derby," Griffith says. "I love sports."
Griffith was a figure skater on ice for 12 years, which she says catalyzed her desire to start a roller derby league. She says a few months ago, she started following the Steel City Derby Demons in Pittsburgh after watching a bout.
"It seems quite popular [in Pittsburgh]," Griffith says. "I want to bring it here."
From there, she started talking to some of the girls from the unsanctioned Akron league, who call themselves the Northeast Ohio Rock 'n' Roller Derby Girls. Though they're currently not registered with WFTDA, they're further along in the process and Griffith says they can help out Youngstown's Little Steel Derby Girls.
"All of the leagues have been extremely nice," Griffith says. "They've given me everything I need."
The game itself is simple. Each team has one jammer, one pivot and three blockers on the circuit track. The jammer is the point scorer, the pivot is the lead blocker that keeps the pack at a steady pace and the blockers try to stop the jammer.
The object of roller derby is to get the jammer past the other team's blockers and pivot during the jam. Each jam lasts for two minutes and every time the jammer passes a blocker the team earns one point. The bouts are one-hour in total playing time and are divided into either two 30-minute or three 20-minute periods with 20 minute intermissions.
Griffith says it takes about a year to be recognized by the WFTDA. In order to be recognized, the LSDG need three letters of recommendation from registered leagues. To get the letters of recommendation, Girffith says, "We'll have to scrimmage [the teams] to make sure our girls are up to par."
Natalie David, otherwise known as Chrissie B. Hynde, has been playing for the Rock 'n' Roller Derby Girls since October 2007. She says her organization had a practice with the LSDG when they first started, and since then a few of their players have held practices for the LSDG.
Photo Gallery
Little Steel Derby Girls
David says though her league isn't sanctioned, they're working on it. She says it takes a lot of time, and she was advised by other leagues not to rush into it.
"Spend as much time as you can getting to know sanctioned leagues and they decide whether you're 'worthy' or not," David says. "You have to build a relationship and a foundation with them and let them get to know what you're about."
Griffith, who is currently looking for a sponsoring rink, says they have been holding bi-monthly practices at Youngstown Skate in Boardman. She says in order to get the team where it should be, skill-wise, they need to be practicing two to three times a week.
Little Steel Derby Girls Beat -n- Greet
When: Sunday, March 8, 2009, 8 p.m. to 2 a.m.
Where: Iron Shamrock, 8414 Market St., Suite 1, Boardman Township
Before going through the official registration process, Griffith wants to have a minimum of 45 girls, which would be divided into four teams. Each of the four teams would create their own team name with a corresponding team theme, and the four teams would play against each other.
"It's a fantastic workout," Griffith says. "The match itself is just outta control. It's a full-contact sport. You have girls flying around the rink on skates. It's exciting."
Griffith says they have about 17 girls right now, but says they lose players as fast as they gain them. She says roller derby is expensive, not only for the rink fees, but also for the skates and equipment.
Later this month, Griffith says she hopes to have a public in-league scrimmage to help the team get ready for competitive bouts.
"I want the girls to realize how intense it's going to be," Griffith says.
Mandy Tucker of Austintown has some experience with the game. About a year and a half ago, her aunt recruited her to play for the Rock 'n' Roller Girls, but she says she was interested in roller derby before that.
"I used to roller blade and skateboard all the time," Tucker says.
She says the speed and aggressiveness draws her to the sport. Tucker says roller derby has been gaining popularity in the past few years, and she's excited it's coming to Youngstown.
"It's entertaining and it's a lot different than anything else in the area," Tucker says. "We're a lot of cool chicks and I think people like to watch us beat each other up."
Tucker says you have to be in great shape to play roller derby. She says in order to skate for two hours, you need to have a lot of endurance and muscle strength.
Griffith agrees: "I don't think it's recognized as a sport, but it's definitely the toughest sport I've ever played."
Sponsored Content
Loading Family Features Article