'Star Trek' pleases old and new audiences
Published: Sun, May 10, 2009 @ 8:26 p.m.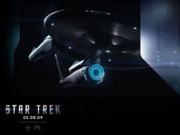 Star Trek XI
The greatest adventure of all time begins with "Star Trek," the incredible story of a young crew's maiden voyage onboard the most advanced starship ever created: the U.S.S. Enterprise. On a journey filled with action, comedy and cosmic peril, the new recruits must find a way to stop an evil being whose mission of vengeance threatens all of mankind. The fate of the galaxy rests in the hands of bitter rivals. One, James T. Kirk, is a delinquent, thrill-seeking Iowa farm boy. The other, Spock, was raised in a logic-based society that rejects all emotion. As fiery instinct clashes with calm reason, their unlikely but powerful partnership is the only thing capable of leading their crew through unimaginable danger, boldly going where no one has gone before!
The new "Star Trek" movie manages to be please cult fans and entice new fans.
It's heavier on the action movie side than sci-fi, and is filled with amazing graphics and great movies.
In short, "Star Trek" appeals to a broad audience because it's good.
JJ Abrams ("Lost") does a fine job keeping all of the elements a purist would hope to see, while modernizing other elements to attract a younger audience.
One of the best examples of Abrams' ability to update the franchise is a Corvette-hover jet ski chase early in the film, in which a young Kirk blasts Beastie Boys. A "Kirk out" statements is also more reminiscent of Ryan Seacrest than William Shatner.
At points, "Star Trek" feels more like an MMORPG brought to life than the 3 a.m. re-runs of the original TV series.
But that doesn't mean there isn't any "Beam me up, Scotty" or Vulcan death grip. The Ikea-inspired Enterprise also hasn't changed and there's still some cheeky, bad lines. ("Damn it, man! I'm a doctor not a physicist!")
"Star Trek" manages to feel like home to fans; albeit, a very welcoming home for guests.
Leonard Nimoy is the only returning cast members, meeting with young James T. Kirk (Chris Pine) and Spock (Zachary Quinto). Pine reminds all that Kirk is a badass, although one fight scene in particular is a little weak as very few hits landed can be seen and the sound effects border on strange.
Audiences should also be warned that this "Star Trek" is a prequel to all the rest, otherwise the chronology seems rather strange. It doesn't take much knowledge of the franchise to enjoy this movie, though, some certainly helps.
The shining element of this film is easily Michael Giacchino's score, who has worked with Abrams on "Lost." It's a soundtrack that belongs in most collections, a more consumer-friendly album than his work with "Mission Impossible: 3" or "Speed Racer." His take on the "Star Wars" theme is stunning, keeping some musical elements of prior themes while adding some Philip Glass influences.
Another way "Star Trek" scores with fans is an anti-pirate theme, as the Romulan Nero is the film antagonist. Though the Naradan mining vessel/war ship looks like a cross between an asparagus and the product of a long day crushing cars, there's definitely an element of good guys against rebel fighters that audiences can cheer along with.
If nothing else, it's a relief to see a film chock full of beautiful images, clever CGI and outstanding effects. "Star Trek" is as much a film for the pointy-eared cult followers as it is for movie fans in general.
More like this
Sponsored Content
Loading Family Features Article