Stuck in Ohio premieres 'Long Weekend'
Published: Mon, May 18, 2009 @ 7:57 p.m.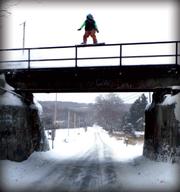 Stuck In Ohio's "Long Weekend"
When: Saturday, May 23, 2009, 7 p.m.
Where: Encore Cinema, 930 Great East Plaza, Niles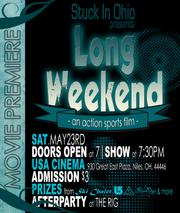 Place
9421 E. Market St., Howland
Dan Mizicko says a lot of extreme sports videos focus on one type of adventure: wakeboarding, BMX, skateboarding, motorcycle stunting or snowmobiles.
He says he wanted to go beyond and make a movie about all of the extreme sports available to area residents.
"I wanted to do something different because most videos out there focus on one thing...I like all the sports, I didn't want to leave one out," Mizicko says. "I wanted to focus on all of the talented people in the area."
"It's based on the fact that Ohio has every season," his brother, Ken Mizicko, says.
The brothers, Dan, 23, and Ken, 26, are the forces behind Stuck In Ohio, an extreme sports production company that's based in Vienna. They'll premiere their latest work, "Long Weekend" Saturday at USA Cinema in Niles at 7 p.m.
According to their MySpace page, "Stuck In Ohio is a production company that specializes in action sports videography and photography. Based in northeast Ohio, we are active participants in every genre of action sports and consider ourselves riders first, filmers second."
"We film everything because we do it," Ken Mizicko says, noting that he's mostly into snowboarding, while Dan's is into snowboarding and skateboarding.
The documentary-style "Long Weekend," they say, begins with themselves as participants in the sports. Ken Mizicko says the film then evolves into them meeting others, like Akron-based Starboyz.
Dan Mizicko says they've done several videos for the motorcycle stunt-riding group over the past couple years, saying they've grown pretty close to the group.
They've also grown close to am elite group of people from a wide-selection of extreme sports, who appear in "Long Weekend." They say the two hardest elements of making "Long Weekend" was getting everyone together that appears in the film, and also finding music.
Dan Mizicko says they found music for the film from underground and independent bands on MySpace. They note they secured the rights to the music, instead of using work without the artists' permission.
"We're doing this legit," Ken Mizicko says.
Ken also handles more of the business side of things, while Dan focuses more on the video work. He's a recent graduate of Youngstown State University's Telecommunications program and works with Accent Media in Youngstown.
Dan Mizicko says he's currently working out a distribution for "Long Weekend." This is the second major release for Stuck In Ohio. The first was "Fun Day," which focused mainly on skateboarding and BMX. That film was released in March of 2007.
At the screening of "Long Weekend," there will also be a trailer for "Steel Valley Meltdown." It's a documentary directed and edited by Kevin DeOliveira, with Dan Mizicko serving as the film's cinematographer. DeOliveira also works for Accent Media.
Doors will open for the premiere of "Long Weekend" at 7 p.m. Saturday. Tickets are $3 and there will be prizes given away from the Ski Chalet, Burton snowboards, K2 snowboards, Stomping Grounds skatepark, Kissing Bridge Ski Resort, the Starboyz and more. There will be a 21+ after party at The Rig, next to Avalon Inn in Howland.
Sponsored Content
Loading Family Features Article