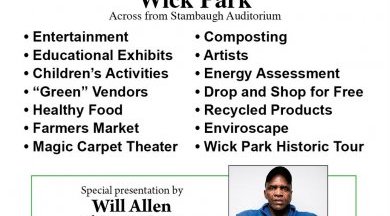 Festival grows in second year
Published: Tue, September 8, 2009 @ 6:31 p.m.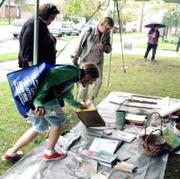 Grey to Green Festival
When: Saturday, September 12, 2009, 10 a.m. to 5 p.m.
Where: Wick Park, 1000 Fifth Ave., Youngstown
YOUNGSTOWN — Despite the cloudy skies and intermittent showers, the success of last year's Grey to Green Festival prompted organizers to make this year's festival bigger and better.
Organizer Atty. Debra Weaver says this year's festival will include more exhibits and activities, and will also feature a nationally-known speaker. The festival runs Saturday from 10 a.m. to 5 p.m. at Wick Park.
"I think that we're more well-known," Weaver says. "...The first year was a trial run. The word got out last year that we existed. This year, it seems like there's a lot more interest than there was."
Weaver says 2008 MacArthur Genius Award winner Will Allen, an urban farmer, will present a morning lecture on Growing Power, the food growing and distribution system he developed in inner-city Milwaukee. Elsa Higby of Grow Youngstown was instrumental in bringing Allen to the festival, Weaver says.
Higby says Allen will be doing a slide-show presentation on the operations of Growing Power and will discuss the economic impact and green job creation in urban agriculture.
"I've known about Growing Power for the last two or three years," Higby says. "It became apparent in June of this year that our government was interested in urban agriculture...I felt the time was right to approach him to come to Youngstown."
Allen will be featured in a panel discussion at First Unitarian Universalist Church from 3 to 5 p.m. Other panel members include Steve Bosserman, founder and president of Bosserman & Associates Inc.; Brad Masi, executive director of the New Agrarian Center; Leslie Schaller, founding staff member of ACEnet's Food Ventures program; and Samina Raja, University of Buffalo, Department of Architecture and Urban Planning.
Higby says the conversation topics include economics, urban agriculture and "food racism' — a term dubbed by Allen to describe high end products going to grocery stores in wealthy areas and low-end products going to depressed ares.
"That's the kind of thing that Grow Youngstown wants to promote," Higby says. "We have a unique opportunity because we can communicate with policy members."
Weaver adds that Youngstown Mayor Jay Williams and U.S. Rep. Tim Ryan (D-17) will make opening remarks at 10:30 a.m. in the Wick Park Pavilion.
The festival will also feature green vendors, a food fair specializing in locally sourced ingredients and on-site composting. Local entertainment will be presented throughout the day, including sets by Mckelvy Raygun and Sam Goodwill.
Robert Dennick Joki's Magic Carpet Theater will perform "The Day Miranda Met the Mermaid," a play written for youths that promotes green concepts. "The Day Miranda Met the Mermaid" will be performed in the Youngstown City Schools.
Weaver says last year's popular attraction, Drop & Shop for Free, will return and all are welcome to bring in any unwanted household items. Common items include products for babies, bedding, clothing, toys and kitchen wares. You may not drop chemicals, large appliances, scrap metal, tires or trash, Weaver says.
"People can bring unwanted household items and drop them off there," Weaver says. "Then they can takes something else that they want."
Weaver says the Grey to Green Festival started because she was interested in the gray to green component in the Youngstown 2010 plan. As a Youngstown resident, she feels that 2010's goals need to be promoted.
The Grey to Green coalition, as she likes to refer to it, is made up of members from the following groups and organizations: Youngstown State University, The Raymond John Wean Foundation, Grow Youngstown, Art Youngstown, Youngstown CityScapes, Defend Youngstown, Treez Please, the Green Team, Oakland Center for the Arts, Youngstown Litter Control and Recycling, Commonwealth Inc., the Northside Farmers Market, TCT Renewable Energy, Lien Forward Ohio, The Villa Shoppe, Mill Creek Metroparks, YSU SMARTS, Children's Center for Science and Technology, Animal Charity, the Alliance for Climate Change, TimeBank Mahoning Watershed, the Audubon Society and other environmental organizations and businesses.
Further information can be found at www.greytogreenfestival.org.
Schedule of events:
10 a.m.: Caledonia Mission
10:30 a.m.: Mayor and Tim Ryan Opening Remarks
11a.m.: Will Allen At Pavilion
12:30 p.m.:Polycultures: Food Where We Live
1 p.m.: Magic Carpet Theater
1 p.m: Nature Walks through Wick Park by Bill Whitehouse
2 p.m.: Dr. Ray's Amazing Sideshow of Science
2 p.m. Scott Loveland from TCT Renewable Energy
2:30 p.m.: Gospel Choir
3 p.m.: McKelvy Raygun
3 p.m.: Panel discussion with Will Allen
3 p.m.: Nature Walks through Wick Park by Bill Whitehouse
3:30 p.m.: Brandon Martin/EOS Belly Dancers
4p.m.: Sam Goodwill
Sponsored Content
Loading Family Features Article