Local documentary gathers expert insight
Saturday, September 19, 2009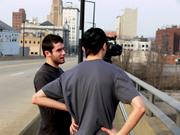 Steel Valley the Movie Premiere
When: Friday, September 25, 2009, 7:15 p.m.
Where: De Yor Performing Arts Center, 260 Federal Plaza W, Youngstown
YOUNGSTOWN - When Kevin DeOliveira premieres his first major work Friday, he'll be 21.
But it's that age that gave him a new angle to approach making "Steel Valley: Meltdown."
"My generation is starting to have a huge disconnect with the history of this area and what it means," DeOliveira says.
DeOliveira says he hopes the documentary, premiering 7:30 p.m. Sept. 25 at DeYor Performing Arts Center, will inspire "some people to take charge of the the future."
"It's about Northeast Ohio using Youngstown as an example, and of the rest of the Midwest," DeOliveira says.
Though DeOliveira is 21, that doesn't mean he isn't capable of making a quality production. He began working at local production house Accent Media when he was still in high school, where he continues to work while studying electronic media production at Kent State University.
DeOliveira says one of the goals of "Steel Valley: Meltdown" was to put a new spin on educational elements in the Mahoning Valley's past. He describes the film as "edgier" and "more captivating to a younger crowd."
"It's a film anyone can watch and have a good time," DeOliveira says, warning that it's not so crazy that a broad audience wouldn't get something out of it.
Also at the film premiere Friday, DeOliveira expects to have one of the people he interviewed in the film speak. Which narrows it down to any number of Youngstown State University or Kent professors, union leaders, politicians and other influential local leaders.
"Steel Valley: Meltdown" is a look at the past, present and future of the Mahoning Valley through the insight of experts. DeOliveira started working on the documentary in Februuary with fellow Accent Media employee Dan Mizicko.
At the same time, Mizicko was putting together "Long Weekend" with his brother, Ken Mizicko, for Stuck In Ohio.
DeOliveira says he and Mizicko came up with the idea for "Steel Valley: Meltdown" after wondering what it would be like to get all of the local leaders and thinkers together in one room.
He says one of the most surprising elements of making "Steel Valley: Meltdown" was that many of the people they talked to would answer questions the same way, even if they had never met each other.
30-year-old Phil Kidd, creator of Defend Youngstown and Mahoning Valley Organizing Collaborative community organizer, is one of the people who appears in "Steel Valley: Meltdown." He says he also sees a level of disconnect between the younger and older generations in the area.
"We are the first generation completely removed from the days steel mills were active," Kidd says.
Kidd notes that the people who tell stories of shopping at McKelvey's in downtown Youngstown are two generations removed. He says that people may appreciate their family histories but might not understand what Youngstown was really like then.
"Our generation lives in a much, much different Youngstown," Kidd says.
But that isn't necessarily a negative idea, Kidd says. To him, he says, that disconnect brings people to Youngstown who want to create and redefine Youngstown.
"You have a younger generation who's becoming interested in Youngstown again, but in a very different way," Kidd says.
DeOliveira says what "Steel Valley: Meltdown" doesn't do is offer any quick fixes or solutions. DeOliveira says as filmmakers they just tried to put the opinions they captured into a cohesive story.
Friday's premiere at De Yor is free, but DeOliveira says they are accepting donations to put on more showings of the film in the rest of the region. He says there will also be a limited number of copies of the film for sale at the showing.
Steel Valley: Meltdown