UPDATED: Rib Burn Off Schedule
Published: Wed, June 23, 2010 @ 1:38 a.m.
Photo Gallery
Mahoning Valley Rib Burnoff 2009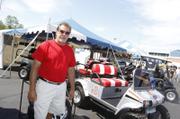 Photo Gallery
Bikini Contest at the MVRBO 2009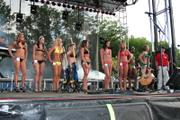 NILES - The Advance Auto Parts - Mahoning Valley Rib Burn Off will showcase local bands from its opening day Thursday through Sunday.
The event will be held in front of the Eastwood Mall and admission is $3, free from noon until 3 p.m. Children younger than 12 will be admitted free. Also, the Eastwood Expo Center website says area Advance Auto Part stores will give customers who spend $25 or more in the store will receive two free tickets.
The headlining act of the Rib Burn off is Blessid Union of Souls, a pop rock band that was popular in the '90s for "Hey Leonardo" and "I Believe." Blessid Union of Souls is slated to perform at 9:45 p.m. Saturday. Thursday and Friday the Mahoning Valley Scrappers are scheduled to play home games, with fireworks set for post-game Friday.
Thursday
6:30 - 8:30: The Guilty Pleasures
9 - close: The Kellys
Friday
5:00 - 6: Ryan Ross
6:00 - 7:30: Leanne Binder
7:30 - 8:30: Dali Dagger
9:00 - close: Aftermath
Saturday
1:00 - 2:30: Makayla Dawn
2:30 - 4:00: TBA
4:00 - 5:30 Cosmic Circus
5:30 - 7: Wet Lemon
7:00 - 8: Bikini Contest with Playboy Lisa Neeld
8:30 - 9:15: Dizzy Whore
9:45 - close: Blessid Union of Souls
Sunday
3:00 - 4:30: Lady Justice
4:30 - 6: Stella Parks
6:00 - 7:30: The Back Alley Band
8:00 - close: Close Total Package
Blessed Union of Souls
Sponsored Content
Loading Family Features Article