Youngstown born, L.A.-based
Published: Fri, July 29, 2011 @ 7:50 p.m.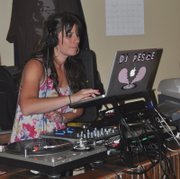 Things to know about DJ Michelle Pesce:
She's been called one of the best DJs by several sources, but points out that there's lots of other sources who didn't say that. ("I don't put too much weight on that.")
Een when she's not working, she's checking out new music. (""It feels great and it feels great to make money at a job I'm passionate about."
She's excited to play Shaker's, in Liberty, on Aug. 3, because it's her hometown. ("There will be a lot of Ursuline people there. It's fun when we get together."
In talking to DJ Pesce, the first thing one notices is the bubbly enthusiasm. Even via mobile phones from California to Youngstown, it's easy to understand how a whole club can be transfixed by her effervescence.
She's also quick to attribute her success in the music industry to circumstances and her mentor, Spinderella. Yes, that Spinderella.
Her family owned the Pesce Bakery on Youngstown's East Side and she lived in Liberty while attending Catholic school in the city. She fondly recalls a friend, Matt Gabany, that introduced her to hip-hop.
"He gave me Too Short," she says.
After graduating from Ursuline High School, she attended John Carroll and moved to Los Angeles. A family friend, Ed O'Neill (yes, that Ed O'Neill) helped Pesce get a job at FOX Network.
But it's when she won tickets to and attended Woodstock '99 that Pesce says she decided to DJ.
"They had raves, these all night raves in airplane hangars and I though, 'I could do that,'" she says. "There was a girl bouncing up and down DJing and decided to buy turntables."
Pesce waited six months before investing the money in equipment, a significant investment she notes, 11 years ago.
"This wasn't on computers, it was on real vinyl," she says.
Pesce began to practice in time off from work as a talent publicist in the entertainment industry. When she went out, DJ AM was the hot DJ in town, a man she says "blew the roof off it for DJs."
Enter Spinderella.
"She was shocked I had turntables. Most girls at the time didn't," Pesce says. "She mentored me for a year and a half or so and she never charged a thing. She helped me as a DJ and as a female DJ."
Pesce describes Spinderella as the "perfect person to start teaching me the basics."
Then, Pesce says, seven or eight years ago, she quit her day job to DJ full time. She says she hasn't looked back on making that decision.
"It feels great and it feels great to make money at a job I'm passionate about," Pesce says.
Her background in publicity helped, she notes, in gaining media attention. She also says DJ AM's rise to fame also helped shine light on DJing in general.
Today Pesce DJs high-profile Hollywood events that are not attended by, but thrown by, the freshest faces on the glossiest magazines. Part of that, she says, has to do with her style of 80s and 90s, pop, rock and hip-hop music.
"There's a lot more electro. House music is much more popular in the States than it was seven years ago. I'm still playing mostly a hip-hop, rock, pop set," she says. "So the crowd at these Hollywood events, they're in the 20s, 30s, you know, up to 50 years ago. It's not necessarily who's in the clubs all the time so it works really well."
She's had a residency with The Dime Bar for seven years. She describes it as a small, dark bar with a New York atmosphere that's become her second home. She also DJs at Dirty Laundry on MOnday nights with two other DJs, who she's quick to compliment.
For three to five years, she's also DJed at Winston's and Crown Bar since they opened. On nights she's not doing gigs at these bars, she's still in the scene, checking out and supporting other Djs.
"I'm constantly checking out music," she says.
Pesce still tells people she's from Youngstown when they ask. She comes back three or four times a year and is exciting to visit her favorite places when she comes back to see friends and family. She has performed at Bad Apple (now Barleys) and was at The Lemon Grove Café last summer.
"I'm excited to play Liberty because that's where I'm from," she says.
DJ Pesce will be at Shakers, 4520 Belmont Ave., with DJ Addison on Wednesday, Aug. 3. The show will begin at 10 p.m. and is free to attend.
Sponsored Content
Loading Family Features Article