Out of the garage, into Youngstown
Published: Wed, June 1, 2011 @ 4:45 p.m.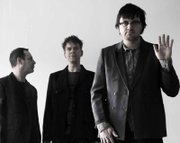 YOUNGSTOWN - Breaking Laces frontman Willem Hartong says they were used to recording under a tight budget and tight budget.
"We were proud of our past recordings, but some people said we were selling ourselves short," Hartong says. "They were kind of right."
Breaking Laces, formed about five years ago, consists of Hartong (lead vocals/guitar/master lyricist), Rob Chojnacki (bass, keys, backing vocals) and Seth Masarsky (drums, programming, percussion) and will play the Lemon Grove on Saturday, June 4. Hartong summarizes the band:
"We are a three piece acoustic rock band out of Brooklyn. We traveled the nation and various parts of the world, releasing two albums along the way. We came off the road, assembled a team of people around us, took a little more time, recorded this album and went back on the road and one of the stops is at the Lemon Grove."
Hartong says the band has shifted their recording philosophy.
"In the past we used to record to support the tour, now we're touring to support the album," Hartong says.
He admits that may sound a "little convoluted," he says the process took the band out of the garage.
"When You Find Out" was released in May and some tracks can be heard on the band's website.
The Youngstown appearance will offer fans in Northeast Ohio an opportunity to hear the band trying some new things out.
"We're going out for little over a month, we'll break up the summer and go back out in August. We're road-testing a lot of different things," Hartong says. "We got a new booking agent and publicist and all of that. We figured, 'Let's go short, long and hard and re-evaluate."
Recording on the latest album, the third for the band, wrapped earlier this year. Masarsky broke both of his wrists, Hartong says, during this year's SXSW so the schedule had to be rearranged to accommodate the injury. Breaking Laces, Hartong says, is a band that loves to perform live and they're anxious to get back on the road.
Hartong says the trio plays music you wouldn't expect to hear – at least, based on what the audience sees when they set up.
"We're different in that sense," he says.
He's right. The trio is a mellow sort of pop rock, heavy on the acoustic side, but an easy listen and manages to be energetic while playing cleanly, delicately, even.
Breaking Laces will play Saturday, June 4 at the Lemon Grove Café in downtown Youngstown with local bands Neon Avenue and SickasMe. The show is set to begin at 9:30 p.m.
Sponsored Content
Loading Family Features Article