Circus daredevil doubles the danger
Published: Wed, March 23, 2011 @ 6:58 p.m.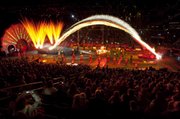 Ringling Brothersand Barnum & Bailey's"Fully Charged"
The Covelli Center
Friday, March 25 - 3 p.m., 7 p.m.
Saturday, March 26 - 11 a.m., 3 p.m., 7 p.m.
Sunday, March 27 - 11 a.m., 3 p.m., 7 p.m.
Monday, March 28 - 7 p.m.
Tickets: $10 (kids); $12; $15; $35 (VIP)
$70 (Circus Celebrity)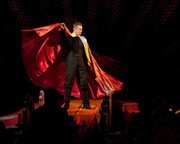 Longtime daredevil Brian Miser is taking his human cannonball routine to a death-defying new level.
As if being shot more than 100 feet through the air at 65 mph from a giant homemade crossbow wasn't dangerous enough, Miser doubles the danger, doing so while engulfed in flames.
The 47-year-old performer, nicknamed "The Human Fuse," is the star of Ringling Bros. and Barnum & Bailey's "Fully Charged," which comes to the Covelli Centre this weekend.
Miser says he has been shooting himself out of a cannon for a total of 14 years and has toured with Barnum and Bailey's for the last nine. He estimates that he's launched himself more than 6,000 times, flying a total of 2 1/2 hours and 113 miles throughout his career.
Miser says he was approached by Ringling Bros. last year about building a different kind of cannon, one that would allow the audience to see all the action.
His response: "That seems a little boring. Why don't I light myself on fire?"
And so "The Human Fuse" was born. Miser took his new stunt on the road three months ago and will continue to perform 10 times a week for the until the end of 2012.
Before each show, Miser spends 30 minutes setting up, making sure the contraption he made is safe and all the settings are right. Then he puts on 20 pounds of fire-resistant gear, including a 12-pound Carbonex suit.
So does this veteran daredevil ever worry about something going wrong?
"I have my moments," Miser says. "I like to be nervous. When you get too comfortable, then you get careless."
"Right now, I'm more nervous about the fire," he continues. "It should be the other way around. If I'm gonna get hurt, it's gonna be from the flight."
Miser admits that life on the road can be a little lonely, especially now that he is traveling without his longtime partner and wife Tina, who recently decided to retire from performing.
"It's not very fun," Miser says of being away from his family. "From the beginning, we saw each other all the time."
It was a mutual love of the circus that brought the couple together. Miser and Tina grew up in the same town, the circus mecca of Peru, Ind. The two met one summer at the town's famous Amateur Circus. Tina was working as a volunteer, and Miser, a locally renowned trapeze artsit, was in town for the summer.
It wasn't long before Miser popped the question that sealed the deal: "Wanna be my tigger woman?"
Tina joined Brian in a double-human cannonball act at Ringling Bros., and the couple toured the country together for many years with their young daughter, Skyler.
Tina and Skyler returned to Peru in November, and Tina has been finishing school to become a registered nurse.
Now Miser sees his wife and daugther just once a month.
"I guess she's growing up, and I'm not," Miser remarks.
Even so, Miser says he has no plans of retiring from the business once his contract with Ringling Bros. ends.
"I've been a performer for 30 years," he says. "I don't think I see myself going back to being bored. I need that adrenaline."
So Miser continues, driving from town to town in his RV, dazzling audiences around the country as he launches himself from his homemade crossbow like human comet.
Miser says he does some woodworking and fabrication to stave off the lonliness and keep himself busy while he's out on the road. When it's nice out, he breaks out his ATV or cruises the town in his convertible, "but not for women," he laughs.
After Youngstown, the show moves on to Louisville, Kent., where Miser will be reunited with his wife and daughter, Skyler.
And not surprisingly, Skyler is following in the footsteps of her mom and dad.
Miser says Skyler recently auditioned for Peru's Amateur Circus and started practice this week. She will train for the trampoline act, as well as the side-by-side trapeze and minature flying trapeze. Miser says he and his wife couldn't be more proud of their young daughter.
And this summer, once school lets out, the 7-year-old will once again join her father, Brian Miser, "The Human Fuse" on the road.
Sponsored Content
Loading Family Features Article