Comedian Mike Vecchione makes time for hometown show
Published: Thu, April 12, 2012 @ 12:00 a.m.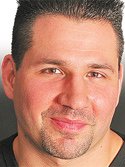 By GUY D'ASTOLFO
Comedian Mike Vecchione admits to getting his butt kicked by jet lag.
The standup funnyman from the Mahoning Valley slept through his first scheduled phone interview with The Vindicator last week. "Time changes screw me up," he apologetically explained hours later.
Vecchione was in a hotel in Minneapolis that day, where he was to do a show.
But he will be home this weekend to headline an evening of comedy at Ford Family Recital Hall in Youngstown. The Saturday evening show will benefit the Armed Forces Foundation.
Sleep deprivation notwithstanding, Vecchione likes his busy schedule. He'll use the Youngstown show as a quick breather, taking time to catch up with family for a day or two before heading off to Atlantic City, N.J., Sunday, where he'll do a week's worth of shows at the Tropicana.
His current schedule will keep him on the road until at least mid-June, after which he hopes to land more late-night television gigs.
Vecchione grew up in Canfield and lived there until his family moved to Florida when he was 8.
"My grandfather had a mushroom-growing and canning business in North Lima, and my father worked for him," he said. In 1981, his father left the business and moved the family to Florida for five years.
When his family returned, Vecchione found himself attending Canfield Middle School and then Canfield High School. He wrestled for both schools and credits the experience — and the Mahoning Valley in general — with instilling in him a work ethic that serves him well in his career.
His family would later move back to Florida, where he continued to wrestle. The Penn State University graduate — he wrestled there, too — has lived in New York since 2003, when he's not on the road.
One highlight of Vecchione's career came in 2010, when he made it to the semifinal round of NBC competition show "Last Comic Standing." He also won the People's Choice Award at the New York Comedy Festival that year.
Vecchione also has appeared on "The Tonight Show with Jay Leno" and "Russell Simmons Stand Up at the El Rey," and has been featured on several Comedy Central specials.
Although Vecchione has played in his hometown before — at The Funny Farm comedy club — Saturday's show will be his biggest here.
The show will include performances by Tracie Jayne, a regular opener for Dave Attell; Jim Norton; Artie Lange; and Johnny Walker, a regular performer at The Hollywood Improv and nationally broadcasted comedian from NPR, All Comedy Radio and The Dr. Demento Show.
The comedians will have a meet and greet Friday from 7:30 to 9:15 p.m. at the Blue Wolf Tavern in Boardman.
Sponsored Content
Loading Family Features Article