Ohio breweries stole the show at Big Tap In
Wednesday, April 24, 2013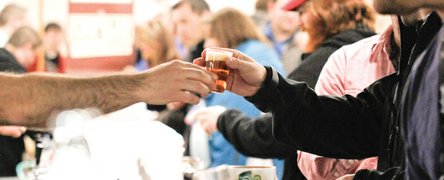 Photo by
Valley Vino May Events
May 16 — Discovery Series Taste, Station Square Ristorante
May 23 — Wine Academy, Avalon Golf and Country Club at Buhl Park
Log on to www.myvalleyvino.com to learn more
Contact Brian at brian.fry@myvalleyvino.com or by visiting www.myvalleyvino.com.
On vindy.com: stay up to date with Brian's tastes and travels 24/7.
This year's Big Tap In craft beer festival on April 20 at The Shepherd Center in Boardman was the biggest and best one yet.
The event sold out with more than 3,000 brew lovers in attendance. The 250-plus beers offered were the most in its history.
Once again, the event had a real international flair as representatives from seven countries traveled to the Valley to pour their suds. Although the global presence was evident, the breweries from the Buckeye State had the strongest presence and stole the show.
Representatives of local favorite Rust Belt Brewing were on hand pouring their Rust Belt Irish Red and Old Man Hopper's IPA. Their booth was busy throughout the session.
The Cask Corner was by far the busiest booth, where 26 breweries took special beer for people to enjoy. These beers were some of the tastiest, creative and most interesting concoctions you will find anywhere.
The task of picking just a few favorites for this article is a tough one, but here goes:
Ohio
Willoughby Brewing Co. Peanut Butter Cup Coffee Porter
This has a great balance of the full-bodied richness you expect from a porter and the concentrated flavors of coffee and peanut butter. The brewmaster wouldn't give away the secret to its nuttiness, but he did drop a sly hint: "If you have a nut allergy, don't drink it."
Willoughby doesn't distribute its beer, choosing to offer it only at its Brew Pub on the East Side of Cleveland. Many local fans make the trip on a regular basis.
Elevator Brewing Co. Horny Goat Bourbon Barrel-Aged Porter
This bold and beautiful porter has defined richness and a long finish. It's not for those who like their beer mellow.
Elevator started as a single brew pub in Columbus' Short North district and has grown to distribution in much of the state. The company is hoping to be in the Youngstown market soon.
Its Mogabi Hoppy Wheat Ale also was excellent.
Fat Heads Brewing Co. Bumble Berry Ale
This ale is brewed with fresh harvested honey and infused with fresh blueberries, creating a light and refreshing ale with nice blueberry flavor and aroma. The fruit doesn't overwhelm the malty goodness of the ale. It was a nice beer to refresh your palate after so many dark ones.
Thirsty Dog Habanera Wee Heavy Scotch Ale
This beer really packs a punch on three fronts: spice, malt and alcohol.
The peppers infused into the brew kettle come right to the front of your nose and palate.
They mingle seamlessly with the malt flavors of toffee, vanilla and caramel. At 10 percent ABV, it really packs a punch on the finish.
Outside Ohio
Uinta Brewing Co. Dubhe Imperial Black IPA – from Utah; new to Ohio.
Samuel Smith Organic Apricot Ale – from England.
Ommegang Brewery Arto of Darkness – from Cooperstown, N.Y.
It was another incredible year for the Big Tap In. I know most Valley beer lovers already are looking forward to next year.