Vino virtuoso lives his dream in world of wine
Published: Wed, August 19, 2015 @ 12:00 a.m.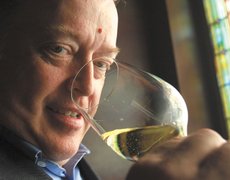 Photo by
Writer's note: I first met Larry O'Brien in April when I sat for the introductory sommelier course and exam. He was one of five master sommeliers who served as lecturers and exam proctors during the two-day process. O'Brien handed me my diploma during the graduation ceremony with the words "Congratulations, Youngstown." That brief interaction led to a follow up conversation that evolved into the article you are about to read.
Earning the master sommelier diploma is an amazing accomplishment, placing those who achieve it at the top of the wine, beer and spirits industry. Some people liken it to earning a Ph.D. from an Ivy League university. That analogy seems a little skewed when you consider that those universities award hundreds of doctoral diplomas each year. There are only 244 master sommeliers in the world. Youngstown native O'Brien is one of them.
O'Brien's adventure into the world of wine couldn't have begun in a more atypical way. He enjoyed a typical upbringing on the West Side of Youngstown and in Canfield in the 1970s and '80s. He was raised in a large extended family, and life revolved around typical Valley family activities. Wine never had any real significance in O'Brien's life until 1988.
"A career in wine was never a thought until I stumbled upon it by accident. I read an article about Emmanuel Kemiji, who had just become the youngest master sommelier in the country. He worked at the Ritz-Carlton in Laguna Niguel, Calif. I could not even pronounce sommelier at that point, but Laguna Niguel seemed very exotic to a kid from the Rust Belt. I decided I would try to get there, and wine would provide the transportation."
O'Brien has fond memories of the local restaurant scene growing up. The experience was centered on the family, and dining out in those days was a treat rather than a regular occurrence. Wine was not really a part of the dining experience for the O'Briens in those days, but the memories created during those meals still leave an impression in Larry's mind.
"The Tel-Star in Cornersburg was my first exposure to restaurant dining. It was quality and value. I can also remember arguments over the best pirogi in town. Was it St. Mary's on Belle Vista or Boomba's on Market Street? I can almost taste the steak sandwich from the Town Tavern on Mahoning Avenue. Of course, what discussion of Youngstown restaurants would be complete without pizza? I'm a Wedgewood guy from way, way back."
Larry and his family enjoyed another common bond that many Valley families share: high school sports. Participation on teams dominated his childhood from St. Christine's to Cardinal Mooney. He was a part of several good Mooney football and baseball teams in the 1980s.
"My family, my teachers and my coaches developed my character and work ethic. John D'Apolito, Frank Naples, Don Bucci, Ron Stoops, Jim Colla, Dan Kukura, Roy Nard, Mark Puhalla and many others instilled values in me that I hold to this day. Without my experiences in athletics I would not have had the ability to handle the repeated setbacks as I pursued the master sommelier title."
O'Brien's road to the master diploma was indeed quite bumpy. He took the master exam for the first time in 1996 and would take it four more times before passing in 2001. The exam has three parts: theory, blind tasting and service. The American Court of Master Sommeliers has very specific rules and time frames for how a candidate can achieve a master diploma. For O'Brien, it was the blind tasting portion that was particularly challenging.
"The blind tasting challenged me endlessly. I failed the tasting exam four times prior to finally passing it in 2001. I decided early in my pursuit of MS status that it was not a matter of if I would succeed. Rather, it was a matter of when I would succeed. Without the camaraderie and assistance from Matt Citriglia, my great friend and fellow MS in Columbus, I would have never passed the MS exam."
Like many wine professionals, O'Brien's entry into the world of wine was humble. He was working as a Teamster casual for Tri-County Distributing in 1988 when he interviewed with John Piscazzi, proprietor of the legendary Wine Merchant Restaurant in Akron.
"I will always wonder what John saw in me. I arrived for my interview in my Pabst Blue Ribbon uniform after a long day of deliveries. I certainly knew nothing about wine or fine dining. He gave me a chance to and an education. I spent seven formative years with him. I owe him much and think of him often. I knew from the first night I worked at The Wine Merchant that I would make wine and hospitality my career."
Passing the MS exam opens up a world of opportunity for a young wine professional. O'Brien worked in some very impressive places in the years leading up to and after the achievement of MS status. He worked at Ben's Steakhouse in Tampa, Fla., and then moved on to work for Emeril Lagasse in Orlando, Fla. Eventually, he went to work as wine director for a large Las Vegas casino in 2005.
He serves as wine ambassador for Jackson Family Estates, one of the largest wine companies in the world. Despite its size and global holdings, the company still is family-owned and operated. The Jackson family is best known for its original winery, Kendall-Jackson, but it now produces wine in nearly every corner of the globe.
"My career has taken me around the world to learn about wine. I am truly lucky I found something I loved and made it my career."
O'Brien's parents, Don and Mary, still live in the area. His brother John also is a Mooney graduate, who went on to earn an engineering degree at Case Western and has served as a lifelong Air Force pilot.
about VALLEY VINO
Contact Brian at brian.fry@myvalleyvino.com or by visiting www.myvalleyvino.com.
On vindy.com: Stay up to date with Brian's tastes and travels 24/7.
Sponsored Content
Loading Family Features Article