Hop into your own brewing experience at Croaker's Kegs & Corks
Published: Wed, April 4, 2018 @ 12:00 a.m.
Mahoning Valley Flight Crew in New Castle
Videos
Croaker's Kegs and Corks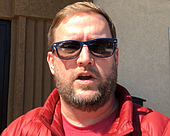 Mahoning Valley Flight Crew visits Croaker's Kegs and Corks in New Castle
IF YOU GO
Location: Croaker's Kegs & Corks
Address: 2017 West State Street, Suite E, New Castle, Pa.
Website: www.croakersbrew.com
Hours: Mon.: 5 to 8 p.m.; Weds.: 6 to 9 p.m.; Fri.: 4 to 8 p.m.; Sat.: 10 a.m. to 4 p.m.
Available for Purchase: Beer- and wine-making supplies, on-premises brew experiences, merchandise.
By Jim Cyphert,
Mahoning Valley Flight Crew
Is it coincidence that frogs hop and a key ingredient in craft beer is hops?
Mara Palipchak, owner of Croaker's Kegs & Corks in New Castle, Pa., says her home brew shop's name comes from her love of frogs. The Flight Crew instantly made the frog-beer-hops connection.
Palipchak and her husband, Chris, opened Croaker's in March 2017.
"We share a love of brewing," Mara said. "We supply the area's wine and beer hobbyists with what they need to 'Keep their hobby bubbling.'"
The Palipchaks also inspire new brewers to give the hobby a hands-on try.
"Our other motto is 'Make great beer right here,'" Mara said. "This represents our brew-on-premises establishment, where customers pick a recipe and brew under our direction."
Once the beer is made, fermented and carbonated, customers return to bottle it. Many recipes are available, as is some customization. Batches can be one, five and 10 gallons.
"This is fun for couples, birthdays, and wedding parties to make a unique keepsake or custom brew, and of course, for those who simply love beer and want to make their own," Mara said.
We met Mara and Chris in November at the BrewHaha! fundraiser for the Public Library of Youngstown and Mahoning County. They were aggressive in their desire to participate in an event for a good cause and let the community taste their beers.
They asked if we had interest in brewing our own beer (that's akin to asking a kid on Christmas Eve if he'd like to open a present a little early).
While some of us have tinkered with home brewing, our expertise is in tasting great craft beers. But the work itself was one of the most enjoyable parts of this experience. We added the grains and hops, and waited … a long time.
What do you do at a home brew shop while you're waiting? You sample beers. Thirteen in our case – from an Apricot Blonde to a Russian Imperial Stout. We even got to tap into a few special beers the Palipchaks had in reserve.
Here's our take on the beers we enjoyed, including our very own Pahk the Cah New England-style IPA:
Pac-Man Apricot Blonde Ale
(7.0% ABV)
Joe Sanfilippo
"You don't need a quarter to try this version of Pac-Man. If you have the time, Croaker's can help you brew Pac-Man Apricot Blonde Ale, an amazing blend of apricot, caramel, Pilsner malt and Cascade hops. This one has a nice fruit flavor with a mild hop finish. It's perfect for any occasion."
Arbalaster English-Style IPA
(6.7% ABV)
Jim Cyphert
"This beer is great for those who crave a little hoppiness, but don't want a hop slap. Mara said this beer was custom brewed for a friend who wanted to share the story of the family name while doing some holiday visiting. Arbalaster is an English-Style IPA crafted with English malts and yeast. A malty flavor is present with the smooth-but-forward hoppiness of the Denali hops used to create the aroma and the Warrior hops that finished the recipe in the dry hop. I was really drawn to this beer."
Uncle Joe's Russian Imperial Stout
(13.0% ABV)
Jason Jugenheimer
"We were fortunate to sample this from Chris' personal stock, which is a nod to his Russian heritage and named for 'Uncle Joe' Stalin. First brewed in England for Catherine II of Russia, the Russian Imperial Stout has developed into a style known for higher ABVs. This particular one was aged with French oak spirals giving it a slightly earthy and malty taste. A touch of rye helps to level out the booziness, but its near-black pour and richness will keep you warm as winter fights to stay around. So put on your Ushanka and raise your glass.
Danger Noodle American IPA
(6.2% ABV)
Roger Gillespie
"Our visit to Croakers was a feast for the senses — the aroma of the boil and great homebrews to sample. I was really impressed with Croaker's Danger Noodle IPA. Brewed with Experimental and Denali hops, this American Pale Ale delivers a nice hop slap at the beginning but softens at the finish with pale malt and honey malt to complement the flavors."
Black Pearl Oyster Stout
(5.3% ABV)
Brian Long
"Don't freak out when you hear the word oyster, unless you're allergic to shellfish. But yes, this Stout is indeed made with fresh oysters, and the shells are added to the boil as well. This "roasty" Stout, balanced very nicely with Hallertau hops, drinks very well with a subtle sweet, briney finish. I found it quite unique. And, what better time of year to try it than during Lent?" Pahk the Cah New England-Style IPA
(6.0% ABV, 111 IBU)
Dave Shively
"What do you get when six craft beer fanatics handcraft a very special brew together? A New England-Style IPA (NEIPA), which we affectionately refer to as 'Pahk the Cah.' With the varied beer styles to brew, we decided to concoct a NEIPA because it's the one style we all enjoy immensely. As winter fades into spring, Porters and Stouts have moved to the back burner and Ales have moved front and center. Our experiment couldn't have turned out more perfect. We tinkered with Mara's suggested IPA recipe to create a hazy, opaque-colored beer with a great hop aroma and a smooth finish. The name? We felt it captured both the New England accent and the style of beer perfectly."
Recommended Flight Pattern: Hop on over to New Castle with a group of friends and experience what it takes to brew your very own tasty craft beer.
More like this
Sponsored Content
Loading Family Features Article