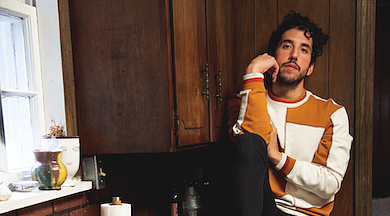 Jordan DePaul will preview songs at cabaret show
Published: Thu, April 4, 2019 @ 12:05 a.m.
By GUY D'ASTOLFO
YOUNGSTOWN
Nashville-based singer-songwriter Jordan DePaul will return to his hometown April 13 for an intimate, acoustic evening of music.
DePaul will share the stories behind his older songs and also perform some of his new material, which will be included on his upcoming album.
The show will be in the Flad Pavilion at the DeYor Performing Arts Center. Guests can arrive early for cocktails and selections from the small-plates menu of adjacent Overture Restaurant. Table seating will be available on a first-come basis.
IF YOU GO
Who: Jordan DePaul
When: 7:30 p.m. April 13 (doors open at 6 p.m.)
Where: Flad Pavilion, DeYor Performing Arts Center, 260 W. Federal St., Youngstown
Tickets: $25 (plus fees); go to youngstownsymphony.com or call 330-744-0264
DePaul discussed the show and his career in this exchange with The Vindicator:
Q. Your music career has taken several paths, but it seems like you have found an acoustic-pop direction that blends them all and makes the best use of your wide-ranging voice and personal songwriting style. Can you reflect on the route you took to get to this point?
A. That's pretty spot on with the assessment. The process was long and my sound is ever changing, but when I first started releasing songs in the pop genre, I felt there was something missing. Lyrics have always been such an important part of what I do, and I kind of let them slide in the first few tracks I put out in 2017. It wasn't until "Still Miss You" that I found that balance of melodic memorability and lyrical relevance. To be honest, when I first heard Julia Michaels' "Nervous System" EP, I noticed she was just saying what she wanted to say and, once I started writing like that, it just came naturally.
Q. After living in New York for a while, you are back in Nashville. Why?
A. I am back in Nashville, and I'm super happy here. I moved to New York for two reasons: one, to be creative, and two, a girl. Really the only two reasons a hopeless romantic songwriter does anything in his life (laughs). But once that relationship ended and being in New York City served it's purpose, creatively, it was time for me to go back to where my support system was, to where my resources were, and that is Nashville.
Q. What does your schedule look like in terms of performing, touring, writing and recording? Is a full-length release coming this year?
A. In terms of performing and touring, I've been kind of taking it easy for the most part. I get asked to do a cool show here and there that I'll take, such as the DeYor show on April 13 or this Airbnb Experience Show in Nashville on the 11th. But right now I'm focusing on recording a bunch of new music for a new project. It won't be a full-length album, but there will be a lot of new music from me in the very near future. Those who attend the DeYor show will hear the new songs and will also hear about the new project.
Q. The Nashville Unsigned magazine has taken notice of you and featured you in a recent article. What is your plan to get to the next level? Will you remain a solo artist?
A. I'll just start by saying that I love Nashville Unsigned. What they do for the indie scene in Nashville is crazy. They're literally all over Nashville at all times. I was very fortunate they chose me for the cover last month.
As far as getting to the next level, no matter what level you're at, you're always trying to get to the next. I have a plan, and I think it's a good one. It's a lot of packaging and prep and being ready for when the opportunity arises. It's all on me right now, but I wouldn't have it any other way. I have a lot of people in my corner and when I'm ready to show everyone what I've been working on, I think it's going to be something everyone will grasp onto and support.
Q. What can folks who attend the cabaret show at the DeYor expect? Unlike a bar show, the attention will be strongly focused on you, the artist.
A. Yeah, it's going to be something completely different than anything I've ever played in Youngstown before. Usually, I'll play at Suzie's or the Federal, and while I love those places, most times I feel like half the crowd is just there to drink and be loud. It's often hard to even hear myself on stage. However, I know a lot of people come to hear my music. So with this show, those people can expect to hear me like they never have before. I'm going to get to share my stories in between, talk to the audience and really showcase my music.
Sponsored Content
Loading Family Features Article