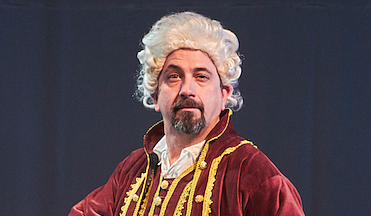 Top Hat does 'Amazing' job with its newest production
Published: Thu, March 28, 2019 @ 12:05 a.m.
By GUY D'ASTOLFO
YOUNGSTOWN
After becoming the first community theater to acquire the rights to "Amazing Grace," Top Hat Productions found itself tasked with bringing a Broadway-sized show to its humble venue.
With a lot of energy and even more belief in its ability, it rose to the challenge.
"Amazing Grace" requires a large cast, and some of its musical numbers have about 30 people on stage and in constant motion.
There are also multiple scene changes – everything from a ballroom in London to a three-mast sailing ship caught in a hurricane at sea. To do each one justice, director-choreographer Brian Palumbo utilized every inch of the stage, from side to side and floor to ceiling.
Set in the late 1700s, "Amazing Grace" tells the story of John Newton, a cocky but troubled son of a slave dealer who goes into the family business.
He undergoes a transformation after a series of events that include his capture on an African island and a harrowing night at sea.
Back home in England, Newton becomes a minister and a composer of hymns – including the one that gives the musical its title.
Anthony Villa was outstanding in the central role of John Newton, giving a performance that is suitably physical and dynamic. He also showed off a powerful and expressive singing voice.
The role of Mary Catlett – John Newton's love interest and moral guidepost – especially required a beautiful voice, as she is a singer in the story. Jessica Murphy handled it superbly with a strong and clear solo style.
Other cast members stood out for their singing voices, including Darlene Griffin. As Nana, a slave and nanny in Catlett's family, Griffin gave her character a lilting Barbados accent to go with a portrayal that oozed wisdom and sympathy.
Alan McCreary was dominating in the rudimentary role of Major Gray, a self-absorbed, status-seeker that you love to hate.
Also nailing it was Nikita R. Jones, whose Princess Peyai was lusty, imperious and cold-hearted.
As Captain Newton (John's father), Bill Marr subtly overcame the emotionally distant description that is hung on him from the start.
There are also a few memorable and emotionally jarring scenes in "Amazing Grace."
The jaunty approach to a slave auction is so inappropriate that it viscerally reinforces the shocking disregard for humanity.
At the other end is James A. Locker's portrayal of Thomas, a slave in the Newton family whose upbraiding of his former master is wrenching.
Lending a ton of authenticity to Top Hat's production are the dozens and dozens of beautiful costumes that the theater staff made by hand.
It is rare to see such a large-scale effort, and it is the first thing you notice about the performance. The ornate period clothing ranges from royal finery to sea-going garb to the colorful outfits of the islanders, all with great attention to detail.
"Amazing Grace" had a short run on Broadway in 2015 that was followed by a North American tour. It features great music and an inspirational story – even if the script occasionally veers into heavy-handedness.
It is also spiritual, historical and multicultural, which puts it squarely in Top Hat's wheelhouse. Give Palumbo credit for relentlessly pursuing the rights for his small theater, and his company for pouring everything into doing it justice.
"Amazing Grace" will continue this weekend with performances at 7:30 p.m. Friday and Saturday and 6 p.m. Sunday. The theater is at 4220 Youngstown-Poland Road. Call 800-838-3006 for tickets, or go to tophatproductions.org.
Sponsored Content
Loading Family Features Article