The Kellys: Winners of the 2007 Lamey Award
By: Bob Mackey

« Back to Blog Is A Four Letter Word | RSS
December 27, 2007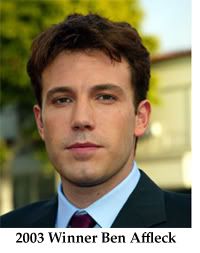 Note: The following outrage-based update is not meant to replace my usual weekend Valley 24 blogs that are read and replied to by millions.

CORRECTION: Trevor Quillian is not the mastermind behind ruKus radio nor is he the mastermind behind anything else. He does, however, give very stupid quotes during website interviews. As does his buddy, Moe Angelo. Let's laugh at them together. But don't laugh too hard, because comedy can sometimes be offensive and we can't have that.

I don't mean to pick on anyone; it's just that I have a Spidey-sense for hypocrisy and lameness—which I guess isn't working too well, since I'm responding to this nearly two weeks after the fact. On December 19th, Valley 24 posted an article titled "ruKus radio provides musical alternative," in which members of The Kellys talk about their Internet radio show. No big deal. Nerd rage levels are undetectable at this point. Let's look at some fun quotes.

"We're spanning all genres," Angelo said. "I don't care what it sounds like. I just love having the freedom of playing whatever the f#$& I want."

Just a touch of embarrassing self-importance and WHOA LOOK OUT FOR THAT F-BOMB I JUST DROPPED, GUYS. That's how on the edge and independent they are: they'll use swears anytime they want. I don't even think I'm allowed to swear on here (Actually, I'm not. I had to go back and edit this when the blog software refused to let me quote the dreaded f-word from an article published on the front page.), but then again I don't use the f-word with the attitude of, "Yeah, mom. I'll clean my room when I'm good and ready!" Here is another quote for you:

"Our mission is to further every single person's mind in the world," Quillan said.

Whoaaaa, slow down there, moonbeam. Just because you run an Internet radio station doesn't mean that our third eyes will open with the assistance of Tool, a bottle of Robitussin, and a silly straw. But, still, I admire these dudes' spirit; they're trying to change the world and they don't care who knows it. And hey, maybe they'll say the f-word again. You may just have to deal with it. Square.

But SCREEEEEECH someone just pulled the lame brakes on the nonconformist train!

Regarding their choice of topics, he said, "There are some things we just don't want to touch. We prefer not to offend mass groups of people if at all possible. Even in humor, people still become offended."

Now, compare this quote to another one within the very same article:

"Blasting forth with complete disregard for the mainstream"

So they're going to totally blow our minds within the realm of mass-market acceptability? Congratulations, fellas, you just completely contradicted yourself without even knowing it! After all, furthering minds is all about not challenging people and telling them exactly what they want to hear and—is that Dave Matthews in the background? Why, even my mom can jam out to those beats! Oh, and you also managed to insult me personally by implying that there should be limits to humor. I don't even feel the need to explain why that statement is completely wrong and terrible, or why you are equally wrong and terrible. Your "Blasting forth with complete disregard for the mainstream" agenda seems a little confused in that your mission is the complete opposite of that.

So, congratulations, The Kellys, as winners of December 2007's Lamey Award, you are officially the Wal-Mart of music. I'll be awfully disappointed if you boys aren't wearing slacks and proper haircuts if I ever see you in concert. And my grandma's knitting circle knows all about that swear word you used on the Internet; they're awfully disappointed in you.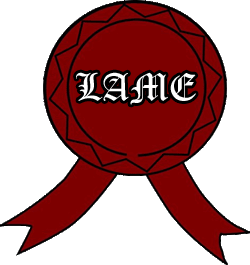 Entry tools
About this entry
No one has blogged about this entry yet.
This entry has been recommended 0 times.